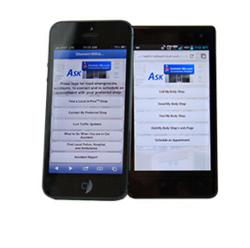 Traffic accidents cause stress, confusion and potential trauma; now Sherwin-Williams Automotive Finishes has an app to help get anyone through these trying times.
Warrensville Heights, OH (PRWEB) April 10, 2013
More than 5.3 million. That's how many vehicle accidents there were in the U.S. in 2011, according to the National Highway Traffic Safety Administration. If you were involved in one of these, then you know the confusion, stress and potential trauma that can occur right after a collision.
Now Sherwin-Williams Automotive Finishes introduces a new Body Shop App for consumers to utilize in case they are involved in a traffic accident. The new mobile phone application provides users with all kinds of information and contact access.
The new app will provide immediate access to the user's friends and family contacts, insurance company or agent, vehicle identification data, local emergency services (police, fire, ambulance, and hospitals), geographic location of the accident and even tips of what to do if involved in an accident. It is capable of retrieving the contact information for nearby towing services, Sherwin-Williams A-Plus™ Network body shops, and car rental locations.
"Any time you're in an accident, it's a very stressful occasion. Fortunately, most drivers now have their cell phones with them. This new app will supply drivers with the data and contact information through their cell phone to make the entire post-accident process go as smooth as possible," says Troy Neuerburg, Manager of Marketing Business Services at Sherwin-Williams Automotive Finishes.
According to Neuerburg, this mobile phone app also can help drivers prepare an accident report and share photos from the scene of the incident. The new app is free for consumers and can be downloaded by going to http://www.sherwin-automotive.com.
Using GPS data, the Sherwin-Williams Body Shop App is compatible with smart phones Apple iPhone and Google Android.
For more information about the Sherwin-Williams Automotive Finishes Body Shop App, visit http://www.sherwin-automotive.com or call 1-800-SWULTRA (1-800-798-5872).
Editor's Note:
About Sherwin-Williams:
The Sherwin-Williams Company, founded in 1866, is one of the world's leading companies in the manufacture, distribution and sale of coatings and related products to professional, industrial, commercial and retail customers. Sherwin-Williams Automotive Finishes, a division of The Sherwin-Williams Company, manufactures and distributes a complete line of advanced technology paint and coating systems for automotive and fleet refinishing industries.