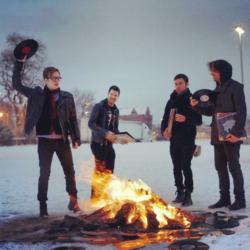 Denver, Colorado (PRWEB) April 10, 2013
Four years have passed since American pop punk band Fall Out Boy fell apart and embarked on an indefinite hiatus. But that's so ancient history.
Now the boys are back. They've reunited for a new album called Save Rock and Roll; and they've backed it up with a 46-date North American promotional tour.
The comeback album hits stores on May 6, while the tour opens at the Rave in Milwaukee, Wisconsin on May 14, 2013. From there, concerts are set for Chicago, Columbus, Pittsburgh, Detroit, Toronto, Montreal, Boston, Niagara Falls, New York, and Philadelphia.
The trek continues with dates in Charlotte, Atlanta, Orlando, Miami Beach, Houston, Dallas, Austin, Los Angeles, Las Vegas, Oakland, Portland, Seattle, Vancouver, Salt Lake City, Denver, Kansas City, St. Paul, St. Louis, and Indianapolis.
The band then travels on to Nashville, Uncasville, Brooklyn, Philadelphia, Fairfax, Cleveland, Auburn Hills, Toronto, Broomfield, Anaheim, San Francisco, San Diego, Spring, Grand Prairie and Alpharetta.
The wrap is currently set for the USF Sundome in Tampa, Florida on September 29, 2013.
"After Fall Out Boy announced their new album and tour, search traffic has been hitting very high volumes as tickets have finally been released," said Felina Martinez at online ticket marketplace BuyAnySeat.com.
"Although many of the venues are already officially sold out according to the band's website, we still have a complete and continuously updated inventory of tickets for fans to choose from – along with a worry-free guarantee to protect their purchase," said Martinez.
"To access the complete selection of cheap Fall Out Boy tickets we now have available, customers can go to BuyAnySeat.com and search for Fall Out Boy – then select their tickets," said Martinez.
Formed in 2001, Fall Out Boy is an American pop punk band from Wilmette, Illinois. The group came out of the underground music scene in 2005 with their first major album called From Under the Cork Tree. The work won several awards and went double platinum after selling more than 2.7 million units in the U.S. It also spun out two top ten singles called "Sugar, We're Goin Down" and "Dance, Dance."
Two years later, the punkers released their third album Infinity on High, which debuted at number one on the Billboard 200 and sold 260,000 copies in its first week. But after their fourth album, the evolutionary Folie à Deux in 2008, the band announced an extended break; and several of the members went on to pursue solo gigs.
Despite their abbreviated career, Fall Out Boy was ranked the 93rd Best Artist of the 2000–10 decade by Billboard. (Source: wikipedia.com)
Four years went by. Then on February 4, 2013, the group unexpectedly announced their new album, Save Rock and Roll, as well as a tour and new single. The band went on Twitter to announce the news and post a picture of themselves throwing old Fall Out Boy albums into a bonfire in Chicago.
Their new single, "My Songs Know What You Did In the Dark (Light `Em Up)", is off the new album, which just happens to drop on the 10th anniversary of their first full-length studio album, Take This to Your Grave. (Huffington Post, 02/04/2013)
To shop for cheap Fall Out Boy tickets, visit BuyAnySeat.com.
About BuyAnySeat.com: An online ticket marketplace, BuyAnySeat.com connects sports, theater and other live entertainment fans to an extensive worldwide network of ticket sellers. The site's simplified listings and navigational tools enable fans to easily locate, compare and purchase inexpensive, discounted or lower-priced tickets to virtually all advertised sports and entertainment events around the globe.
The online marketplace, which is PCI-compliant and Norton Secured, also provides customers with a complete Worry-Free Guarantee on all ticket purchases. Based in Denver, Colorado, BuyAnySeat.com is a subsidiary of Denver Media Holdings. For more information, please visit http://buyanyseat.com.