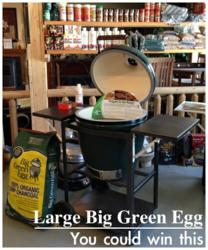 Big Green Egg owners bring their grills together in a competition.
Nappanee, IN (PRWEB) April 10, 2013
Miller Stove will sponsor the first annual Green Egg grilling contest on Clark Street in downtown Nappanee, on May 11. Miller Stove is calling the event "the battle of the eggs". Around the nation, these events are known as EGGfests. At the EGGfests, Green Egg owners bring their grills together in a competition to see who can produce the best grilled food in a scheduled amount of time.
At the Nappanee EGGfest, prizes will be awarded based on the taste, texture, appearance, and presentation of the grilled foods. All entries will be scored on a scale of 1 to 10. The grilled foods will be divided into two separate contests: chicken and pork or open grill. Any kind of grilled food can be entered into the open grill contest.
The Miller Stove EGGfest has five prizes. The Grand Prize will be a large-size Green Egg, with a retail value of $889. There will be two second prizes: $100 gift certificates to John's Butcher Shop, provided by John's Butcher Shop. There will also be two third prizes: $50 gift certificates to Miller Stove.
Miller Stove is offering a special for anyone who would like to purchase a Big Green Egg in time for the big event. Green Egg grills purchased before May 8th will receive a 20% discount.
In addition to the prizes, food will be available all day from 10am to 5pm for everyone, not just the contestants. There will be free samples of grilled food and Green Egg cooking classes. Green Egg accessories will be available for sale at a 15% discount.
This event will be in conjunction with Nappanee's Second Saturday events. Other vendors will be present in the Clark Street area and Nappanee businesses will be running specials. There will be a Bounce House for the kids.
All grilling must be done on a Green Egg. Raw meat is to be brought to the contest in a cooler with ice. No marinades or sauces can be added to the meat until contestants have checked in. Contestants are permitted to have one assistant. All grilled items must be turned in when the contest time limit is up.
To register for the EGGfest complete a form at the Miller Stove location in Bremen or register online at http://www.millerstove.com. For more information, to register, or for a complete list of contest regulations, call 855-426-2699.