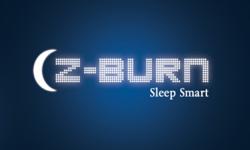 "Z-BURN uses all-natural and stimulant-free ingredients to boost metabolism and target fat – all night long." - Michael McDonald, President of Fitness One Formulas and co-creator of Z-BURN
Miami, Florida (PRWEB) April 10, 2013
While millions of Americans suffer from sleep issues, millions more struggle to achieve the weight loss goals they long for. Intent on creating a product to meet both needs, Fitness One Formulas is pleased to present Z-BURN, the "overnight" weight loss sensation that combines the importance of achieving a good night's sleep with the desire for weight loss.
In two soon-to-be released television advertisements, viewers will have the chance to see Z-BURN in action and learn how the product works. The ads are slated to air in select markets nationwide beginning this spring. A 30-second clip is currently available to view on Z-BURN's YouTube channel, http://www.youtube.com/zburnfit.
"We are excited to showcase the product and its effectiveness via our commercials," says Michael McDonald, President of Fitness One Formulas and co-creator of Z-BURN. "Our spots offer a great new way to demonstrate how Z-BURN uses all-natural and stimulant-free ingredients to boost metabolism and target fat – all night long."
By increasing efficiencies of underlying metabolic functions and optimizing the release of powerful fat-burning and muscle-building hormones, Z-BURN's ingredients enable the body to attack fat throughout the night, while other ingredients work to achieve a deeper, more productive sleep. Z-BURN solves the problem many fitness enthusiasts face: How can I get a good night's sleep after a daytime routine that consists of caffeine-based supplements? In answer, Z-BURN's creators crafted a proprietary blend consisting of precise, calculated amounts of:

Valerian Root, to promote muscle relaxation and stress reduction which lowers levels of Cortisol – the "belly fat" storage hormone
Vitamin B6, a key factor in protein and glucose metabolisms
Melatonin, the hormone which controls sleep and wake cycles
Chromium Picolinate, to speed up the transport of fat and glucose for energy use
L-Theanine, to increase metabolism and prevent fat accumulation; also enhances rest and relaxation
Zinc, to boost immune defense and repair muscle cells and tissues
Magnesium, to increase release of Adiponectin which tells the body to burn fat for fuel
Resveratrol, a weight loss and anti-aging ingredient which stimulates the breakup of fat stores and increases the user's resting metabolic rate
L-Glutamine, to build muscle mass by increasing protein synthesis which boosts metabolism and increases fat burning efficiency
"The energy drink boom has certainly done its damage to our sleeping patterns, mine included," says McDonald. "This was the original problem I wanted to solve with the creation of Z-BURN, providing essential rest and recovery with overall health and fitness in mind."
Since its introduction to the market in the summer of 2012, Z-BURN has quickly become a top seller in both the fat burner and sleep supplement categories. Z-BURN stands by its effectiveness with a no questions asked 30-day money back guarantee. Taking it a step further, Fitness One Formulas will also cover return shipping costs and provide a check for an additional 10 percent of the product cost, if the customer is not satisfied.
For more information on Z-BURN, please visit http://www.z-burn.com.
About Z-BURN
Created in 2012 by Fitness One Formulas, Z-BURN is the revolutionary nighttime fat loss supplement that boosts metabolism and burns fat all night long while helping your body to get the deep sleep it needs to repair, recover and wake up refreshed. The all-natural and stimulant-free ingredients attack and reduce fat stores, increase metabolism, encourage lean muscle growth, curb cravings and promote deep restful sleep. Visit Z-BURN online at http://www.z-burn.com, on Facebook at http://www.facebook.com/zburnfit, on Twitter at http://www.twitter.com/zburnfit (@zburnfit), and on Pinterest at http://www.Pinterest.com/zburn.