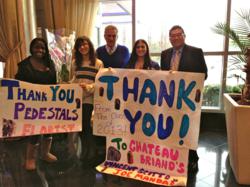 Carle Place, NY (PRWEB) April 10, 2013
For the past seven years, Long Beach High School has been holding its prom at Chateau Briand in Carle Place. However, due to hardships caused by Superstorm Sandy, it looked like many students would not be planning to attend the prom this year. In an effort to help the students of Long Beach, Chateau Briand decided to host their senior prom for free.
As a family-owned and run business, Scotto Brothers wanted to ensure a memorable evening for every student in the Senior class. "We didn't want to deny any students the opportunity to attend their prom because of cost," explained Mr. Joseph Mandaro of Chateau Briand.
In addition, Victoria Scotto of Chateau Briand set out to make every lucky Senior girl at Long Beach High School feel like a princess for the night, by hosting a Prom Dress Party on April 18, 2013. Long Beach High School Senior girls who are attending their prom will be able to choose from a selection of donated dresses, handbags, and costume jewelry. There will be raffles & giveaways such as limousines, gift cards and accessories. Among the vendors contributing to this event are Estelle's Dressy Dresses, Bridal Reflections, Tuxedo Park, Men's Wearhouse, Frippery Boutique, Thomas Knoell, Body Rock DJ and more.
"We are proud to play a role in helping the students of Long Beach High School celebrate this special milestone, and to give them happy prom memories, in spite of all the recent hardships they have faced," said Mr. Mandaro.