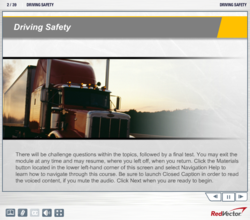 These courses are designed to help organizations create a 'safety culture' by providing essential information that allows employees to protect themselves. – Matt Casey, PhD, VP of Content for RedVector
Tampa, FL (PRWEB) April 10, 2013
RedVector.com, the leader in online continuing education and workforce training solutions for the architecture, engineering, and construction (AEC) industry, recently announced the addition of more than two dozen safety courses to its premier online course library.
Developed by a team of subject matter experts and in line with current industry standards, the new courses feature full-motion video and cover a broad range of topics designed to help reduce worksite accidents and injury as well as increase productivity and meet safety compliance standards. Content is ideally suited to support cross-training, apprentice, refresher and new technology training initiatives.
"Implementing a safety training program within an organization can reduce the number of injuries, property damage, liability issues, workers' compensation claims, and missed time from work," said RedVector Vice President of Content Matt Casey, PhD. "These courses are designed to help organizations create a 'safety culture' by providing essential information that allows employees to protect themselves in the workplace as well as promote proper safety techniques, policies and procedures as defined by the organization."
Among the topics for the 26 new safety courses are: hazard communication and hazardous materials identification and transport; the use of personal protective equipment; driving safety; working safely around electrical equipment; personal fall arrest systems; fire prevention and safety; and chemical safety hazards..
The new courses have been updated to help organizations stay aligned with the OSHA GHS mandates for 2013 and are available through the RedVector online course catalog. They can be located by typing "BB" in the Item # field.
About RedVector
RedVector sets the standard for excellence in online continuing education and training for the design and construction industry and holds more than 60 state and national accreditations. Through our award-winning AEC Learning Management System (LMS) we offer individual courses as well as large-scale corporate training solutions for AEC firms featuring customizable and easily accessible online universities with a full range of tracking and reporting features. With an online library exceeding 1,100 courses authored by more than 100 subject matter experts, RedVector serves more than 130,000 AEC professionals in all 50 states. The recipient of numerous community honors and industry awards, RedVector was founded in 1999 and is headquartered in Tampa, Florida. For further information call 1-866-546-1212 or visit http://www.RedVector.com.