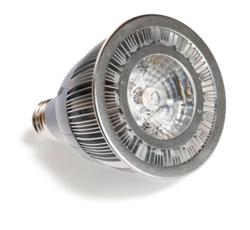 "The quality of light provides an artifact-free beam with a soft roll off that is desired in many precision applications."
Philadelphia (PRWEB) April 09, 2013
Retailers, architects, hotel and facility managers in the Pennsylvania, Delaware and New Jersey areas, who require the most precise and controlled quality of lighting, can now access Leapfrog Lighting Inc.'s specification-quality LED lamps from their local representative Digital Filaments as of April, 2013.
"These are the highest quality LED lamps we've seen to date," explained Digital Filaments' President Billy Hodges when asked why they are representing Leapfrog Lighting. "The quality of light provides an artifact-free beam with a soft roll off that is desired in many precision applications."
Digital Filaments services clients in all segments of the lighting marketplace, from specification clients and architects to municipal, state and government end users to commercial and industrial electrical wholesalers. These clients have a higher standard for quality of light, consistency and other nuanced standards. "Leapfrog Lighting gives these clients that critical consistency."
Stephen Naor, CEO of Leapfrog Lighting Inc., explained that specification clients "choose our lamps due to the reliable quality of light. Retailers use them to attractively light and accent merchandise. Hospitals and hotels use them to save money on energy." Although Leapfrog Lighting lamps are available to anyone, they are specifically designed to the standards and needs of lighting designers, architects, facility managers, gallery owners, museums, institutions and retailers, where quality of light is the main consideration.
Leapfrog Lighting's lamps provide "improved glare control, light distribution and color consistency," said Canadian Federal Minister Gary Goodyear, at a recent press event announcing an investment in Leapfrog Lighting's ongoing research and development. The Minister of State for Science and Technology praised "measurable improvement on lighting quality required by facility managers, institutions, architects and retail businesses."
The current Leapfrog Lighting product line includes MR16, PAR30, PAR38 and PAR20 lamps that provide industry-leading output power through high-efficiency LED source and driver electronics. The innovative lens design creates a pleasing, glare-free light suitable for use in all indoor and unexposed outdoor down-lighting applications. The lamps also deliver the high CRI and ultra-consistent color temperature control critical to multi-lamp applications in hotels, restaurants, schools, office buildings, museums, galleries, retail operations and other public spaces. With a life expectancy of 40,000 operating hours, these UL-registered lamps will provide more than 27 years of service at 4 hours per day.
"Leapfrog Lighting intends to be the current and future benchmark in quality of light for years to come," said Stephen Naor of Leapfrog.
Digital Filaments will represent Leapfrog Lighting Inc. in Eastern Pennsylvania, Southern New Jersey, Delaware and the greater Philadelphia Area.
TM - Intelligent Optics is a Trademark owned by Leapfrog Lighting Inc.
Contact:
Leapfrog Lighting Inc.
Press Contact: Derek Armstrong
647-477-8179 ext 288
darmstrong(at)personaco(dot)com
Digital Filaments Contact
Billy Hodges
110 Park Ave. Penthouse #2, Swarthmore, PA 19081
Phone: (215)620-1160
Leapfrog Lighting Contact
Stephen Naor
613-270-7871