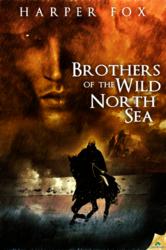 'We couldn't be more delighted,' says Samhain publisher Lindsey Faber. 'Harper Fox's stories of love and conflict transcend time, and we are excited that this extraordinary book is getting very deserved recognition.'
Cincinati, OH (PRWEB) April 15, 2013
International publisher Samhain Publishing® today announced that author Harper Fox has received a Publishers Weekly starred review for her Viking male/male historical, Brothers of the Wild North Sea.
Brothers of the Wild North Sea is the story of a heart-broken monk and a wounded Viking warrior, who are drawn together in the midst of war in 687 CE. "We couldn't be more delighted," says Samhain publisher Lindsey Faber. "Harper Fox's stories of love and conflict transcend time, and we are excited that this extraordinary book is getting very deserved recognition."
The full description of Brothers of the Wild North Sea is:
His deadliest enemy will become his heart's desire.
Caius doesn't feel like much of a Christian. He loves his life of learning as a monk in the far-flung stronghold of Fara, but the hot warrior blood of his chieftain father flows in his veins. Heat soothed only in the arms of his sweet-natured friend and lover, Leof.
When Leof is killed during a Viking raid, Cai's grieving heart thirsts for vengeance—and he has his chance with Fenrir, a wounded young Viking warrior left for dead. But instead of reaching for a weapon, Cai finds himself defying his abbot's orders and using his healing skills to save Fen's life.
At first, Fen repays Cai's kindness by attacking every Christian within reach. But as time passes, Cai's persistent goodness touches his heart. And Cai, who had thought he would never love again, feels the stirring of a profound new attraction.
Yet, old loyalties call Fen back to his tribe and a relentless quest to find the ancient secret of Fara—a powerful talisman that could render the Vikings indestructible, and tear the two lovers' bonds beyond healing.
And the complete review of Brother of the Wild North Sea from Publishers Weekly is:
(Starred)
Fox (Scrap Metal) sets this gripping, epic tale of love against the backdrop of ancient Britannia. When Viking raiders target the monastery at Fara, Caius, a fledgling Christian monk, must not only defend his home but reconcile his faith with his love for one of the Vikings—all while struggling toward a destiny he isn't certain he wants. Already a grown man, Caius must come of age again, enlightened by science and religion after the superstition and warrior training of his youth. Vivid battlefield descriptions punctuate an erotic romance that couples with stark questions of the soul. While the romantic passion between Caius and Fenrir grows and flows organically, it doesn't dominate the plot. Spirituality and faith are presented thoughtfully in a sensually beautiful recounting of love in a time of austerity and danger. (June)
To learn more about this title and all Samhain Publishing books, and to order books at a special discounted rate, visit the publisher online at http://www.samhainpublishing.com.
About Samhain Publishing
Launched in 2005 with a vision of bringing extraordinary fiction to compulsive readers (who sometimes can't wait for a book to actually be printed), Samhain Publishing® is an international publisher of ebook and traditional print fiction. One of the most prominent voices of original ebook fiction, Samhain represents some of today's brightest authors of romance and horror fiction. To learn why at Samhain "it's all about the story…", visit Samhain Publishing online at http://www.samhainpublishing.com.