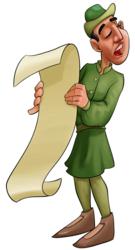 The more information you give to your client, the more likely they are to buy
Fareham, Hampshire (PRWEB UK) 10 April 2013
"Hear Ye, Hear Ye"
With that short phrase, the Town Crier gets the attention of everyone in the square.
However, the important message from the King will almost certainly take much longer to deliver.
This illustrates an important point for business owners trying to sell their products or services.
Long copy almost always outsells short copy.
So says Russell Streeter, business growth specialist, who uses marketing as a tool to help owners of SMEs to increase sales and profits and grow the value of their business.
"Sometimes one, short, punchy classified ad in a print publication can attract a lot of customers," says Streeter. "Can that same ad sell? The answer is almost certainly no.
"A short classified is a lead generator only. It's very difficult to sell an item of significant value with a short ad of any kind. A 20-word ad simply doesn't contain enough information to give a prospect all the information he or she needs to make an informed purchasing decision."
The selling happens after the lead comes into a store, or when you send the prospect your full-blown sales letter, brochure, video or whatever.
Is there a point of diminishing returns? Perhaps. It depends on the situation. Marketing is not like math where there is always a specific answer to every equation.
But the general principle is this: the more information you give to your client, the more likely they are to buy.
Potential customers need know all about the benefits that they will reap from buying a product or service, the problems it will solve, how the seller intends to reverse the risks that are inherent in buying anything.
What about the notorious "short attention" span of today's consumer - the busy shopper who is constantly being bombarded with advertising, marketing and media information from all sides. Do they really have time to pay attention to a lengthy sales pitch?
The answer is, yes they do, once the marketer has gained their attention and interest. The problem of the short attention span is only a factor in the attention grabbing process. But once a customer is looking at the sales materials, they become very discriminating and need a lot of information and persuasion to become buyers. The more they are given, the more likely they are to buy.
Once the attention of a prospect has been captured, it must be kept. People who write novels are good at this. They know that if the first 10 pages of a book is a drag, most people will drop out and not finish the next 200 pages. So they write in a way that is designed to keep people turning pages.
For example, every chapter ends in a mini-cliff hanger, goading the reader to start the next chapter. The novelist "salts" each page with literary inducements, and little cliff hangers all of which lead up to the big payoff at the end.
It takes a very special talent and high level of skill to keep people interested for 200 pages, but good writers do it all the time.
The good news is, there is a trick all marketers can use.
In fact, there this one easy sentence structure, which keeps readers hooked on the marketing material. The best thing about this special writing technique is that anyone can learn to use it, and it is almost guaranteed to keep customers reading...
To learn how to convert your customer enquiries into sales, come along to one of Russell's Business Growth Meetings. Part workshop, part networking, these meetings are designed for small business owners who also want to grow and develop their businesses.
For more information please visit http://www.russellstreeter.com or email growth(at)russellstreeter(dot)com.