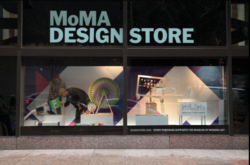 "We are thrilled to have the encouragement and support of the world's foremost art and design store to take on this crazy experiment," said Ayah Bdeir, littleBits Founder & CEO.
New York, NY (PRWEB) April 10, 2013
littleBits, the open hardware start-up, has been invited to take over the windows of MoMA Design Stores in New York City from April 9 through May 12.
The two window displays, titled "littleBits Make Big Things Happen," feature 4-foot-tall kinetic sculptures made of wood, cardboard and acrylic animated with "Bits" measuring less than 1 inch square. The installation required no programming, no wiring, and no soldering – just sensors, switches, lights, and motors snapping together with magnets. The projects aim to present electronics as just another material, accessible to everyone including kids, artists, makers, and designers – not only engineers and experts.
MoMA Design Store and MoMAstore.org locations began carrying littleBits kits in January 2013 following the acquisition of littleBits for the Museum's design collection and the inclusion of littleBits in the MoMA exhibition Talk to Me: Design and the Communication between People and Objects.
"This is the first time we have attempted to create such large scale installations with littleBits," said Ayah Bdeir, littleBits Founder & CEO. "We partnered with Brooklyn-based design studio Labour and challenged them to restrict themselves to only using littleBits for electronics, and no other hardware platform, or robotics tools for the entire display. Something as remarkable as a giant shark swimming after a tiny lure, or a cyclist turning a large Ferris wheel 10 times her size are at once iconic and familiar but absolutely distinctive in how we have merged two worlds, the world of art, and that of electronics. We are thrilled to have the encouragement and support of the world's foremost art and design store to take on this crazy experiment."
"In developing these windows with littleBits we hope to bring a piece of Museum exhibitions to retail customers of MoMA Design Store and inspire them to explore their own creativity," said, Emmanuel Plat, Director of Merchandising of MoMA's retail division.
While the displays are up, small-scale replicas of the window projects can be found inside the Midtown and SoHo Design Stores and in-store demos will be take place throughout the month of April. littleBits is also launching a challenge called "Make Something Big" for enthusiasts who are excited by the potential of small electronics to create beautiful and impactful large-scale projects of their own. For more information on the installations, challenge and how to make your own replicas, please visit http://www.littlebits.cc/MoMAstore
About littleBits
littleBits is a New York-based startup that was founded in September 2011. littleBits is a library of electronics that snap together with magnets to inspire invention and problem-solving. littleBits has been dubbed "LEGO for the iPad generation" and been awarded a TED fellowship for its founder and an acquisition into MoMA's collection, as well as over 14 toy awards including Dr. Toy's 10 Best Educational Products; 100 Best Children's Products for 2012; the National Parenting Publications Awards; and was named a winner of the Parent Tested Parent Approved™ Awards. The company product line includes 3 Kits (the Starter Kit, Extended Kit and Teaser Kit) and 35 individual Bits.
More at http://www.littleBits.cc
About MoMA's Retail Division
MoMA's Retail Division furthers the Museum's mission of educating the public about modern art and good design. What began in 1939 as a small sales desk in the Museum's lobby now features three store locations in New York and one in Tokyo; e-commerce sites for U.S., Japanese, and Korean markets; a mail order catalog; and a wholesale division. The retail division works with the curatorial departments to select and develop products and publications that reflect MoMA's programs and collections. It offers the public thousands of products, from publications and art reproductions to a varied selection of design objects, jewelry, and personal accessories, and larger design items such as furniture and lighting. In addition, any net revenues generated by the Museum Stores are used solely to advance the Museum's mission, which includes supporting the Museum's programs and exhibitions. For more information, please visit MoMAstore.org.
# # #
Contact Tricia Chan, tricia(at)public-group(dot)com, 917.239.0642