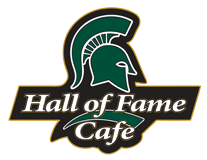 (PRWEB) April 10, 2013
Spartan Hall of Fame Cafe is a restaurant located in Lansing, Michigan that has for the longest time been under the radar in terms of online visibility. That has all changed recently as the owner has just revealed a new and improved super website that was aimed at impressing its visitors.
This is because not many people really know that the Spartan Hall of Fame is not your typical college bar and grill with crazy parties and the "club" atmosphere. The site that they launched has a purpose of revealing the nature of the restaurant at a much deeper level - which includes things like wining and dining and overall just enjoying a great meal at a decent cost in an atmosphere that emulates the Michigan State University Spartan vibe. The restaurant maintains this vibe by using Michigan State Spartans colors, as well as placing memorabilia and Spartan art all around the restaurant.
How is the Spartan Hall of Fame Café able to maintain this type of atmosphere while not drifting to close to the "party" scene? It most likely the fact that it is just far enough away from the campus and close enough to the suburban areas that you get a healthy mix of crowds that all have one two things in common: They all love the taste of good food and they all love the Michigan State Spartans.
Some of the new information that can be found on this new website are things like memorabilia (many people didn't know that this place boasts one of the largest collections of historic MSU memorabilia anywhere to be found), events and promos (they have at least one happy hour every Mon-Fri), as well as their full featured menu online. Other things that you are able to do on the site include purchasing a gift card, filling out a form to request a banquet, or filling out a comment card.
The website was created by a start-up web design company in Royal Oak, Michigan and has a press release of their own that was picked up by Yahoo as well as many other publishers.