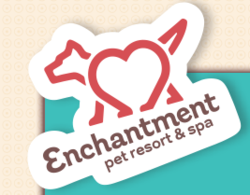 Teach your dog ideal behaviors in the most humane and effective way possible.
Rio Rancho, NM (PRWEB) April 10, 2013
Enchantment Pet Resort and Spa is offering a 3-week Manners Institute for dogs which will be featured on NBC-affiliate KOB boarding school training program in a weekly series, one day a week for four weeks.
Pets enrolled in the Institute learn a range of skills that are built upon each week, including basic manners in the house and in public. Training curriculums are based on each dog's individual needs and owner requirements. A team of award-winning Enchantment training staff assesses your current relationship with your dog and uses this as a basis to set specific goals.
Dogs play and learn in Enchantment's first-class facilities, including a sizable training room with SportTek flooring, three heated swimming pools, exercise spaces, and a mix of outdoor and indoor training areas. Lodging areas feature soothing music, radiant heat, natural lighting, fresh air and private rooms.
Training staff possess an array of skills and titles. AKC-certified Canine Good Citizen evaluators and nationally ranked agility competitors team up with therapy dog handlers to teach your dog ideal behaviors in the most humane and effective way possible.
"Dogs are social creatures who do best when they are directed positively," said Resort Training Manager Dan Strickland. Dan, a member of the International Association of Canine Professionals, has over 8 years of experience professionally training dogs with the Humane Society of North Texas and the Monks of New Skete.
Enchantment Pet Resort also offers in-home training options and training in traditional classroom settings.
Fill out Enchantment Pet Resort's training evaluation form to receive your dog's first evaluation session for free - a savings of $89.
About Enchantment Pet Resort:
Enchantment Pet Resort has provided extraordinary pet training services for 10 years. Management staff is Red Cross CPR trained and has over 60 years of combined experience training dogs. ABQ Magazine named Enchantment the Best Doggie Daycare for two consecutive years in 2011 and 2012. ABQ also recognized Enchantment as best for training services, grooming and boarding. Staff receives continuous education on dog handling and training, care and health, and group play management.
For more information about Enchantment Pet Resort, visit their website here:
http://www.enchantmentpetresort.com/