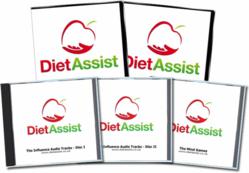 We believe that focusing on genetic causes can cause people to become resigned to their fate. After all, whilst you may have a genetic tendency towards sunburn, you still have a choice whether to apply sunscreen or stay in the shade
London, UK (PRWEB UK) 10 April 2013
According to The Telegraph, researchers found that 30 percent of the difference between the body weight of one child and another can be explained by their genes.
The study, carried out by University College London, studied a random sample of 1.7 million genes in each of 2,269 children between the ages of eight and eleven who were not related to one another.
The researchers analysed the results to determine whether children who were of the same weight shared similar collections of genes which could be responsible for their body shape.
Findings showed that the combined effects of multiple genes were responsible for around 30 percent of individual differences in children's weight.
Co-creator of DietAssist, Rob Woodgate, says "Whilst genetic factors undoubtedly play a role in the obesity puzzle, our experience of helping people lose weight suggests that behaviourial factors play a more significant role."
"We believe that focusing on genetic causes can cause people to become resigned to their fate. After all, whilst you may have a genetic tendency towards sunburn, you still have a choice whether to apply sunscreen or stay in the shade."
"So whilst a person may have a genetic tendency to overeat or crave certain foods, it doesn't mean that they are helpless against these tendencies. We teach people how to lose weight by taking conscious control over their natural behavioural tendencies."
The DietAssist programme gives dieters a deep understanding about how their mind works, and how to use it to their advantage – whatever diet or sensible eating plan they are using. It aims to help them to take back control over their eating behaviours and teaches them to act more appropriately in relation to food and eating in the future.
The DietAssist programme is the result of over 20 years experience of helping people to lose weight effectively, and uses the latest psychological techniques to avoid the self sabotage and demotivation that dieters commonly experience.
The DietAssist programme helps dieters strengthen their motivation and resolve, and creates the optimum psychological state for success.