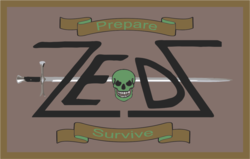 The Zombie Emergency Defense System was designed by the survival experts at Bren-Mil Army Navy in Brentwood NH
Newmarket, NH (PRWEB) April 13, 2013
PHI Management Solutions launched the new Zombie Themed emergency kit for Bren-Mil Army Navy in Brentwood, NH. Ralph Huber, President of PHI, said that this kit is unique and specifically designed to meet the needs of people who are serious survivalists.
This kit is based on a medium-sized, military grade, transport pack. It contains everything that the ready.gov site recommends for emergency preparedness plus several enhancements. Some of the enhancements include a water purification system that can purify up to 20 gallons of water. A combat shovel that features a hollow handle that you can fill with candy or other survival items…just in case. It also features a military Meal Ready to Eat (MRE), a combat knife, tools, first aid items, and more.
This kit is available to purchase at Bren-Mil Army Navy and Airsoft in Brentwood, NH. It is also available for purchase online at Amazon.com. Vince Milano, the kit developer said that we are really proud of this product. Every member of the team was a combat veteran who weighed in to balance the available space with combat functionality. The ZEDS kit is the result. It is well balanced between form, function, and price.
Huber added that PHI has the capacity to develop branded kits for just about any dealer. In addition, dealers are able sell and drop ship PHI's complete line of kits. The PHI team is composed primarily of military veterans with over 90 years of combined service. Each member of the team has proven themselves through combat command and has extensive experience in disaster response and planning. Team members have commanded response forces and/or participated in several disaster responses to include the 2005 crash of a civilian airliner in Afghanistan, Hurricane Katrina 2005, Southwest New Hampshire Flooding in 2005, New Hampshire Statewide flooding in 2006, Epsom, NH tornado response in 2007, the 2008 New England Ice Storm, 2009 Anthrax Response in Durham, NH, the 2010 NH Wind Storm, Hurricane Irene in 2011, the October 2011 New England Snow Storm and Super Storm Sandy in October 2012. In addition, they have energy partners in New Hampshire, Massachusetts, New Jersey and New York.