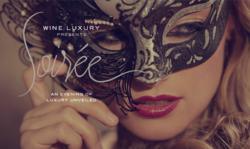 Soirée is an ideal opportunity for people to explore Wine Luxury and also to get a glimpse of the digital platform we are about to launch
San Francisco, CA (PRWEB) April 10, 2013
Wine Luxury ("WLX"), the multifaceted online platform and magazine dedicated to the celebration of a wine and culinary lifestyle, is hosting a masquerade-inspired evening, complete with a live performance by The Phantom of the Opera's Franc D'Ambrosio, at The City Club of San Francisco on April 26, 2013.
The Soirée will also feature other live entertainment, premier wine tastings, and a live auction to benefit Share Our Strength and ACCESS. The evening celebrates the WLX Wine & Dine magazine and serves as a preview to the upcoming WineLuxury.com platform.
"Soirée is an ideal opportunity for people to explore Wine Luxury and also to get a glimpse of the digital platform we are about to launch," states Wine Luxury's CEO and Founder, Daniel Feder. "It's going to be an incredible tool for people who enjoy fine wine, cuisine and a luxury lifestyle."
Wine Luxury is pleased to present a live performance by Franc D'Ambrosio, the actor who played 'Phantom' in Andrew Lloyd Weber's Tony Award winning musical The Phantom of the Opera. D'Ambrosio will sing a four song set, including "Music of the Night."
Guests of this luxurious Bay Area event will also be treated to wine tastings from over 30 superb vintners, including Arcanum Wine, Bernardus, Big Basin, Blackbird, Buccella, Chappellet, Comanche Cellars, Crocker & Starr, Failla, Hawk & Horse, Jericho Canyon, Jessup Cellars, Luca, Madrigal Vineyards, O'Shaughnessy Estate Winery, Paul Lato, Phifer Pavitt, Pride Mountain, Qupé, Red Stitch, Ridge Vineyard, Roederer Estate, Rosenblum, Sheldon, Talbott, The Wine Foundry, Trione, Vice Versa, Virage Vineyards, and others.
Guests will also have the option to participate in the Riedel Crystal Seminar; a chance to sip wines from the highest quality and most elegant stemware in the world, and learn the difference a glass can make in the wine tasting experience.
WLX's Soirée will host fashion luminaries Lily Blue, Tuan Tran, Monique Zhang, West Coast Leather, and Swell Attitude who will reveal some of their dramatic designs created expressly for this San Francisco event.
Aficionados from Telford's will guide guests through the etiquette and enjoyment of fine cigars, served in the "Cigar Lounge," and VIP guests will enjoy exclusive, all-night access to select limited wines, Tsar Nicoulai Caviar, Point Reyes Farmstead cheeses, delectable bites from Trident, and premium spirits in the WLX "Luxury Lounge." Join in a toast with Master Sommeliers and Anthony Bourdain's co-star Zamir Gotta (yes, that does mean there will be a special vodka in store for this evening).
For more information about WLX's Soirée please visit http://www.magazine.wineluxury.com/events/soiree. To purchase tickets for the main event, VIP lounges, and the Riedel Seminar, please visit http://www.wineluxury-eac2.eventbrite.com/#.
About Wine Luxury
Founded in March 2012, Wine Luxury, Inc (WLX) is a privately held corporation dedicated to the celebration of the wine and culinary lifestyle. Its mission is to be the leading digital platform for the curation of all elements of this lifestyle, promoting world-class wineries, dining establishments, and related luxury experiences. They bring premium wine producers and restaurants together with consumers who share the same passion and appreciation for wine and food as much as the Wine Luxury team. For more information, please visit http://www.wineluxury.com.
About Share our Strength
Share Our Strength began in the basement of a row house on Capitol Hill in 1984, in response to the '84-'85 famine in Ethiopia. Brother and sister Bill and Debbie Shore started the organization with the belief that everyone has a strength to share in the global fight against hunger and poverty, and that in these shared strengths lie sustainable solutions. Today Share our Strength focus on making No Kid Hungry a reality in America. For more information, please visit nokidhungry.org
About ACCESS
AirCraft Casualty Emotional Support Services (ACCESS) is a San Francisco based national non-political, non-profit, tax-exempt (501c3) organization established in 1996. It is the only organization dedicated to partnering those who have survived or lost loved ones in air disasters with Volunteer Grief Mentors who have experienced similar losses in years past. For more information, please visit accesshelp.org