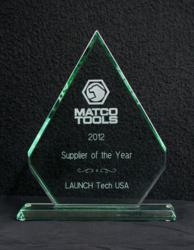 Ontario, California (PRWEB) April 10, 2013
LAUNCH Tech USA announced that it has been named Matco Tools Supplier of the Year for 2012. The prestigious award was presented at this year's Matco Tools National Expo in San Diego, California, and follows last year's award for the Most Improved Supplier of the Year.
LAUNCH Tech USA received the award as a result of outstanding performance including three years of consecutive triple digit growth, with 2012 sales being 18 times over 2009. Unparallel field support, corporate responsiveness and on-time delivery while growing over 117% from 2011 were also metrics for the award.
"We are honored to be named Matco's Supplier of the Year", said Harlan Siegel, VP of Diagnostics, Launch Tech USA. "To be recognized as a key supplier to such a large player amongst mobile distribution has been our direction and this award exemplifies our accomplishments. The dedication of our field support coupled with products that address the needs of Matco customers are all components of our growth success with Matco."
Launch Tech USA supplies Matco Tools with Diagnostics Equipment including Scan Tools, Code Readers, and Fuel Injector Diagnostics/ Cleaning Equipment.
About Launch Tech USA:
LAUNCH Tech USA, with parent company LAUNCH Ltd., are global leaders in the automotive diagnostics aftermarket. Launch manufactures and distributes industry leading Automotive Diagnostics products, Undercar and Lift Equipment in over 60 countries worldwide since 1994.
For additional information, please visit LAUNCH Tech USA at http://www.launchtechusa.com
About Matco Tools:
Matco Tools manufactures, distributes and services premium quality automotive equipment, tools, and tool storage for the professional technician. The company has more than 60 years of national brand experience in the automotive equipment industry and a vast product line of more than 13,000 of the highest quality, innovative tools and accessories.
For more information on Matco Tools, please visit http://www.matcotools.com