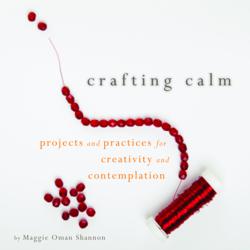 (PRWEB) April 10, 2013
New from Viva Editions, Crafting Calm: Projects and Practices for Creativity and Contemplation, a D.I.Y. guide to peace of mind, explores crafts and creativity as a spiritual practice providing enormous benefits. Maggie Oman Shannon takes a rich "potpourri approach" that weaves together interviews, historical facts, "Soul Craft" projects for readers, quotations, and suggested resources.
Shannon has facilitated workshops to help others "tap into that deep well within themselves where the waters of creativity, spirituality and personal identity blend and swirl." Discover the arts of making prayer beads and prayer shawls, creating a Biblical garden, love boxes, mandalas and tiny altars or one of the many other activities to open the creative flow, and help with relaxation.
Maggie Oman Shannon will be at these events leading workshops of calming crafts:
4/19: Towne Center Books, Pleasanton, CA - 11am
4/19: A Great Good Place for Books, Oakland, CA - 7pm
4/24: Inside Edge Interim, Irvine, CA - 7am
4/28: Unity Spiritual Center of San Francisco, Ocean Ave
5/2: Bookshop West Portal, San Francisco - 7pm
5/4: Books Inc. Alameda, CA - 7pm
5/23: Readers Books, Sonoma, CA - 7:30pm
5/30: Book Passage, San Francisco, CA - 6pm
6/9: Unity Spiritual Center of San Francisco, Bush St
Listen to Maggie on the radio on these shows:
4/10: Soul Journeys Radio, 5-7pm PST
4/18: The Soul Directed Life, 11am PST
4/22: Inside Personal Growth, 9am PST
5/22: Energy Awareness, 3-4pm PST
7/3: Publishers Weekly Radio, 12pm PST