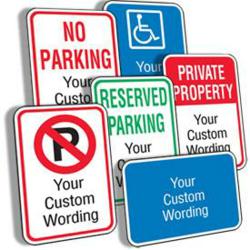 Unlike other manufacturers, our parking signs are made to withstand the abuse of harsh winters
Carlsbad, CA (PRWEB) April 10, 2013
With temperatures rising, snow melting and frost giving way to morning dew, spring is in the air. This venerable time of year brings with it the tradition of spring cleaning and the planting of lawns and gardens for homes and offices alike. This year, it's time to give the company parking lot a well-deserved makeover by posting up-to-date parking signs and no parking signs available from STOPSignsAndMore.com.
With a focus on shrubs and flower beds to beautify any building's exterior, the appearance of a business's parking lot can get overlooked even though it is the first thing visitors come in contact with. "Planting" brand new signage can give a fresh clean look bolstering a company's professional image. When easy-to-read parking signs and no parking signs are properly posted, customers, vendors and other guests can easily navigate the building's parking lot.
In addition to standard directional parking lot signs, reserved parking signs for executives or key customers can make guests feel especially welcome. Posting unobstructed handicap parking signs may be required by law depending on your parking lot's capacity.
"Spring is a busy time of year for us as snow melts and unsightly parking lot debris is revealed. Business owners recognize their lots and their signage could use a cleanup," says David Boyne, Manager of STOPSignsAndMore.com. "Unlike other manufacturers, our parking signs are made to withstand the abuse of harsh winters. Aside from an occasional wipe-down, our reserved parking signs require minimum maintenance and will last for years."
It's recommended for any business owner to take a drive around the parking lot at least once a year and take a good hard look at the quality and placement the signage available. Spring is the best time of year for planting trees, shrubs, flowers and parking lot signs alike.
About: STOPSignsAndMore.com is a leading U.S.-manufacturer of top-quality signage including ADA signs, braille signs, no trespassing signs, neighborhood watch signs and much more that are easy to install and durable to last winter after winter. All signs meet federal regulatory standards so as a business or private property owner, you know they can be trusted for their professional appearance.