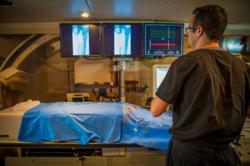 Training on a realistic simulator is a major step forward in physician training and improved patient outcomes.
Colorado Springs, CO (PRWEB) April 11, 2013
In May 2010, The Spectranetics Corporation (NASDAQ: SPNC) introduced the only available laser-assisted lead extraction simulator, a virtual, hands-on environment to train physicians in the removal of leads, the insulated wires that connect pacemakers and defibrillator devices to the heart. A year later, the company followed up with a comparable system designed to help physicians learn to treat peripheral vascular arterial occlusions.
Now, the company is getting ready to take this essential lead extraction training directly to the physicians and the hospitals where they practice with a fully mobile version of the Laser Lead Extraction Simulation System. The countrywide tour begins in mid-April in the northeast, with stops in Philadelphia; Hartford, Conn.; Springfield, Mass.; and Burlington, Vt.
The mock operating room is housed in a full-sized, 40-foot motor coach complete with a computerized rubber patient. Monitors around the operating table monitor vital signs and display images from a virtual fluoroscope. Physicians can practice multiple lead extraction case scenarios based on specific patient indications and using the same tools and techniques found in a traditional surgical suite. The experience replicates real-world scenarios, including challenges of complications that can arise during extraction procedures.
According to Spectranetics SVP of Global Marketing, Strategy and Portfolio, Donna Ford-Serbu, over 4.5 million people worldwide have an implanted cardiac device, and 1 million new leads are implanted annually. "Since their inception 50 years ago, these devices have improved quality of life and extended the longevity of many patients, often extending beyond the expected lifespan of the device itself," said Ford-Serbu. "There are any number of reasons why leads may need to be removed, and Spectranetics is committed to providing the tools for safe, predictable lead extraction."
The simulator responds to the needs of growing ranks of physicians performing lead extraction, providing a tactile feel for forces used for lead traction and laser sheath removal. In the past year, Spectranetics has hosted 19 simulator events and trained 378 physicians. The company expects to double both the number of events and physician trainings in 2013.
According to Dr. Laurence Epstein, Chief of Cardiac Arrhythmia Services at Brigham and Women's Hospital, lead extraction has one of the steepest and longest learning curves of all procedures. While studies have now demonstrated that extraction is a safe and effective option to lead management, the ability for physicians to receive robust training is limited. "The old approach of 'see one, do one, teach one' does not provide the experience experts feel is necessary," said Dr. Epstein. "Training on a realistic simulator is a major step forward in physician training and improved patient outcomes."
The original Laser Lead Extraction Simulator was developed in partnership with Medical Simulation Corporation (MSC) in conjunction with MSC's SimSuite® simulation technology platform. Now adapted as a mobile experience, the system incorporates use of the Spectranetics GlideLight® and SLS® II Laser Sheaths, LLD EZ® Lead Locking Device and VisiSheath® Dilator Sheath in the lead extraction process.
Additional tour dates and locations will be forthcoming. Physicians and hospitals interested in learning more are encouraged to contact Tom Daily, Director of Training at Spectranetics (tom.daily(at)spectranetics(dot)com).
About Spectranetics
Spectranetics develops, manufactures, markets and distributes single-use medical devices used in minimally invasive procedures within the cardiovascular system. The company's products are sold in more than 40 countries and are used to access and treat arterial blockages in the legs and heart, and to remove pacemaker and defibrillator cardiac leads.
The company's Vascular Intervention (VI) products include a range of laser catheters for ablation of blockages in arteries above and below the knee. The company also markets support catheters to facilitate crossing of peripheral and coronary arterial blockages, and retrograde access and guidewire retrieval devices used in the treatment of peripheral arterial blockages, including chronic total occlusions. In addition, the company markets aspiration and cardiac laser catheters for the treatment of blockages in the heart, and drug delivery catheters for vascular delivery of drugs and diagnostic agents.
The Lead Management (LM) product line includes excimer laser sheaths and cardiac lead management accessories for the removal of pacemaker and defibrillator cardiac leads.
For more information, visit http://www.spectranetics.com.
Safe Harbor Statement
This news release includes "forward-looking statements" within the meaning of Section 27A of the Securities Act of 1933, as amended, Section 21E of the Securities Exchange Act of 1934 (the Exchange Act), as amended, and the Private Securities Litigation Reform Act of 1995, and is subject to the safe harbor created by that section. Forward-looking statements contained in this release constitute our expectations or forecasts of future events as of the date this release was issued and are not statements of historical fact. You can identify these statements by the fact that they do not relate strictly to historical or current facts. Such statements may include words such as "anticipate," "will," "estimate," "expect," "project," "intend," "should," "plan," "believe," "hope," "enable," "potential," and other words and terms of similar meaning in connection with any discussion of, among other things, clinical trials, future operating or financial performance, strategic initiatives and business strategies, regulatory or competitive environments, our intellectual property and product development. You are cautioned not to place undue reliance on these forward-looking statements and to note that they speak only as of the date hereof. Factors that could cause actual results to differ materially from those set forth in the forward-looking statements are set forth in the risk factors listed from time to time in our filings with the SEC. Readers are encouraged to review Item 1A. – Risk Factors and all other disclosures appearing in the Spectranetics Form 10-K for the year ended December 31, 2012, filed with the Securities and Exchange Commission, for further information on risks and uncertainties that could affect Spectranetics' business, financial condition and results of operation. We disclaim any intention or obligation to update or revise any financial projections or forward-looking statements due to new information or other events.
Source: The Spectranetics Corporation