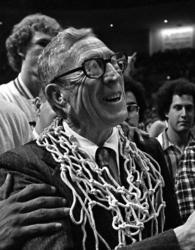 Coach Wooden was one in a billion... His Pyramid of Success made an indelible impression, sticking with you and continuing to inspire and uplift you.
Los Angeles, CA (PRWEB) April 10, 2013
SD Entertainment has secured the entertainment rights based on legendary UCLA Basketball Coach John Wooden and his Pyramid of Success. In a deal with IMG Licensing, a division of global sports, fashion and media company IMG Worldwide, SD is set to bring Coach Wooden's celebrated and inspirational philosophies to life through a series of stories, school curriculums and entertainment content inspired by his beloved inspiring messages to his players called the "Pyramid of Success." One of the most revered coaches of all time; Wooden spoke and wrote often of how to be a success in life as well as in basketball.
"We are very proud and excited to recognize Coach Wooden's legacy coinciding with the NCAA's celebration of the 75th Anniversary of March Madness with this new entertainment deal and a number of other exciting initiatives celebrating his greatness," said Daniel Siegel, IMG's Vice President of Licensing. "SD Entertainment's commitment to bringing Coach's Pyramid of Success philosophy to young audiences, through beloved characters, across multiple screens will ensure Coach Wooden's wisdom will inspire our future generations."
Retired Los Angeles Laker, UCLA Two-time All-American and member of a Wooden-Coached UCLA team that won a record 88 consecutive games, Jamaal Wilkes (UCLA 1972 – 74), said, "Coach Wooden was one in a billion. He was a coach, mentor and truly a friend, to students, athletes and millions of fans for generations. But more importantly, his words made an indelible impression, sticking with you and continuing to inspire and uplift you. I am thrilled to hear that SD Entertainment is bringing his legendary teachings of life to continue his legacy for countless generations."
Coach Wooden's daughter Nan and son Jim said, "Our dad touched millions of people around the globe with his simple, direct approach to life and he has provided his children, grandchildren, and great-grandchildren with a blueprint for success that we feel should be shared with as many people as possible."
Jay Fukuto, Executive Producer from SD Entertainment said, "The SD team is incredibly honored to take the work and wisdom of legendary basketball coach John Wooden and adapt it for a new generation of kids and adults who might not be familiar with his inspirational teachings. This relationship is especially meaningful for me, as I have been a lifelong fan of Coach Wooden and his great teams at UCLA. Our entire team is thrilled to adapt his timeless insights into meaningful and entertaining stories for all digital platforms."
Coach Wooden will forever be in the sports history books for leading UCLA's men's basketball teams to 10 NCAA Championships in 12 years (1964-75). His 'Pyramid of Success' has set the standard for corporate leaders in the business world and for many of us in the world of life.
About John R. Wooden
Coach Wooden, is one of the greatest coaches in sports history. In the 29-year coaching career beginning at Indiana State University (1946-48) and then UCLA (1948-75), he had led the Bruins to 10 NCAA National Championships in a 12-year period, including an unprecedented seven consecutive titles from 1967-1973. In addition, his teams won a record 88 consecutive games and 38 consecutive NCAA Tournament Games. He was named national coach of the year six times. As a player at Purdue University where he won a National Championship, Wooden was the first player ever to be named basketball All-American three times. He was also the first person to be named a member of the Basketball Hall of Fame as both a player and a coach.
About SD Entertainment
Founded in 1999 by animation industry veterans Paul Sabella and Jonathan Dern, SD Entertainment specializes in managing an intellectual property portfolio, creating franchise properties that connect with audiences and consumers on every screen. SD Entertainment has re-invented, produced and distributed amazing entertainment for beloved brands like Bob the Builder, Angelina Ballerina, My Little Pony, Tonka, Care Bears, Transformers, Bratz, Noddy, and many others. SD Entertainment is a leading independent studio in stereoscopic 3D, with a turnkey 3D production venue at Austin City Limits Live at The Moody Theater and the creators of the UT3D program at UT, Austin.
Web: http://www.sdentertainment.com/books
Like: http://www.facebook.com/sdeBooks
Follow: http://www.twitter.com/SDEBooks
ABOUT IMG LICENSING
IMG Licensing is the world's premier independent licensing agency with an unrivaled 40-plus year track record of success. In addition to being ranked number one in sports licensing, IMG Licensing also offers leading expertise in a number of other markets and services, including corporate trademarks, brands, entertainment and celebrity properties. For more information, visit http://www.imgworld.com.
For further information, please contact:
Ida Yenney
GennComm, on behalf of SD Entertainment
T: (818) 839-1410 E: ida(at)genncomm(dot)com
Jennifer Bozzelli
IMG
T: (212)774-4416 E: jennifer(dot)bozzelli(at)imgworld(dot)com