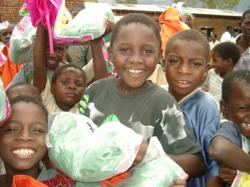 "We see so much good news, both in the work we do and with children we are working with, and we would love to share it with our supporters."
Newport, WA (PRWEB) April 15, 2013
UK-based charitable organisation World Medical Fund (WMF) has partnered with online marketing company Kwasi Studios in a bid to share positive news about their work in Africa with a wider audience.
Operating in Malawi and the Democratic Republic of Congo, WMF is responsible for treating 30,000 sick children every year.
The international children's charity services remote villages with a mobile health clinic and mobile surgical unit, providing much-needed care to children who would otherwise go without.
WMF conducts extensive HIV/AIDS outreach, treating affected children along with those orphaned by the disease.
Their team of medical volunteers, some of them students, work to decrease the rate of mother to child HIV transmission, which accounts for 30% of all HIV transmissions in Malawi every year.
WMF places a strong focus on public health awareness, delivering HIV/AIDS education to 70,000 school children annually.
Programme Director Nazlie Chan-Wing-Yen said she hopes the revitalization and relaunch of the organisation's online presence will bring new interest to the work they do.
"So often, the news from Africa that we read in the paper or see on TV is negative," she said.
"We see so much good news, both in the work we do and with children we are working with, and we would love to share it with our supporters."
World Medical Fund is funded entirely by donations, receiving no government financial assistance.
The charity currently relies predominantly on standard donations but, with the relaunch of their website, hopes to encourage more hands-on funding options, such as Alternative Gift Giving and Virtual Clinic Sponsorship.
WMF feels it is important to provide supporters of the charity a chance to see their donations at work.
"To know that your £15 donation is treating twenty children suffering from malaria, for example, gives our supporters a real sense of involvement in the work we're doing," Chan-Wing-Yen said.
For Kwasi Studios, this is an exciting opportunity to work their web magic for a worthy cause.
"We're excited to be involved in a project that will help spread the goodwill of an organisation that is relatively unknown to a wider audience and enable them to reach a broader community," Director Woj Kwasi said.
"The internet is the perfect place to make this happen and we're here to help."
The site is currently in development, and expected to be launched later this year.