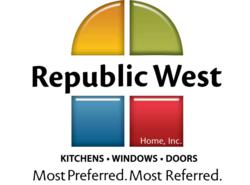 Far too often we see homeowners trying simple remedies for mold which are ineffective and can damage windows. Replacing windows is the best way to safely and completely remove mold to ensure the problem won't return in the dry spring and summer months
Phoenix, AZ (PRWEB) April 10, 2013
As the winter months come to a close, Republic West Home offers tips on how prevent health issues that may arise as a result of the moisture which accumulated around homeowners' windows over the winter months.
Mold growth occurs whenever an organic substance (like wood or cardboard) comes in contact with moisture for an extended period of time. During the wet winter months, mold growth along window sills, frames, glass and tracks is fairly common in Arizona. However, living with mold can be hazardous to a person's health. Not only does the presence of mold in a household worsen allergies but it can also agitate asthma sufferers and irritate lungs.
"Far too often we see homeowners trying simple remedies for mold which are ineffective and can damage windows. Replacing windows is the best way to safely and completely remove mold to ensure the problem won't return in the dry spring and summer months," explained Linda Zimmerman, Vice President of Republic West Home.
One of the main sources of mold in window frames is condensation. To reduce the risk of mold inside a home, Republic West Home suggests:

Double or triple pane windows. These provide better insulation and preventing this condensation from occurring inside a home.
Discontinue the use of humidifiers indoors which increase the amount of moisture in the air.
Add ventilation or exhaust fans. Air circulation keeps moisture from settling around the house and keeps mold at bay. Increasing the air circulation at the window surface can help prevent warm moist air from becoming stagnant around the cold window surface where the condensation can occur.
If moisture persists around windows and mold returns, the professionals at Republic West Home recommend replacing the windows as soon as possible to maintain health and prevent mold spores from propagating.
About Republic West Home:
Republic West Home has been providing skilled, efficient and affordable home improvement contractor services for over 30 years. Their vision, in an industry often lacking ethics and reliability, is to deliver the best home improvement experience possible — before, during, and after your home remodeling project. To deliver the best possible experience before, during and after the completion of your project, an extensive team of professionals was put in place: employees driven to make the home improvement experience a great one for you, our customers. In an industry where repeat business averages less than 5%, Republic West Home and their 15,000+ clients generate an amazing 50% of our business from previous customers and referrals. For additional information please call 1-480-423-9300 or visit http://RepublicWestHome.com/
Media Contact:
Jason W. Jantzen
Phoenix Marketing Associates
http://www.PhoenixMarketingAssociates.com
602-282-0202