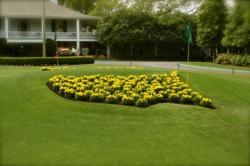 New York, NY (PRWEB) April 09, 2013
The Masters Golf Tournament or simply "The Masters" is one of the four chief title/championship games in the world of professional golf. This golf tournament is usually held in the first week of April and the 2013 edition will be held from April 11 to 14. This golf tournament is the first in the major golf tournaments that the pros play in every year. The Masters tournament is always held at the same playing location, which is the Augusta National Golf Club. This location is a private golf club located in Augusta, GA. This year will be the 77th edition of the tournament since its inception in 1934. The tournament is popular for awarding the 'green jacket' to the emerging champion. Bubba Watson was the 2012 edition and the defending champion of this tournament.
The tournament format in The Masters comprises of four rounds of 18 holes. The Masters has a small number of contenders in comparison to other major tournaments. Here, the competitors play in groups of three during the first two rounds (total of 36 holes). During this time the field will not be split in order to begin the 1st and 10th tees. After these 36 holes, the cut-off scores will be calculated and players who did not make the cut will be eliminated. Players who are not eliminated are those in the top 44 seeds, including ties, or those within a 10-stroke range to the score of the leader. For the 2013 edition, the players will play with total of 7,435 yards and 72 par formats. Professional golfers and those belonging to the top 50 spots are the ones invited to participate in The Masters Golf Tournament. Most of the past Masters champions are invited to play together with champions from other golf tournaments like the US Open, British Open, PGA, The Players Championship, the top 16 finishers of the previous Masters and so on.
The Masters pays out lucrative prizes tor the winners. Last year, Bubba Watson took home US $ 1.44 million and of course, the Green Jacket. Some trivia, the record holder for having the best aggregate score in this golf tournament is Tiger Woods (as of this writing) with 270 that he set in 1997. In this same year, Woods set the record for the best 'to par' score and that was -18.
About Cheap Concert Tickets:
CheapConcertTickets.me delivers tickets to sold out concerts and sports events worldwide when no one else can, and they do so at discounted prices. As a member of TicketNetworkDirect, they can guarantee the delivery of Masters Golf Tournament Tickets along with tickets for Depeche Mode and The Rolling Stones tickets. This trusted ticket exchange also has a large inventory of tickets for all sporting events around the World. With CheapConcertTickets.me customer service is a priority, for more information email support(at)cheapconcerttickets(dot)me.