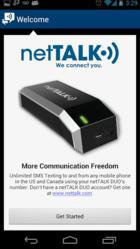 Save hundreds in annual and monthly fees per year! To take advantage of this outstanding TEXT Plan a netTALK DUO account is required and if you're not a DUO customer, download the free netTALK Text App and get a promo code to save 15% off!
Miami, FL (PRWEB) April 10, 2013
netTALK.com, Inc. ("netTALK"; OTCBB: NTLK), a telecommunications, consumer electronics and cloud technology company and developers of the only patented VoIP telephone (netTALK DUO / DUO WiFi) device that connects via wireless, USB, or traditional Internet connection announced they have exceeded the projected number of subscribers projected target for the first quarter of 2013. Since the release of its industry's first-to-market, low cost, flat rate netTALK Text Plan in early December 2012, they have exceeded expectations! One reason for its popularity is because it allows DUO customers to send and receive SMS text messages to any SMS-capable phone including tablets to U.S. & Canada using their DUO home phone number. Even while traveling internationally customers can still send and receive text from U.S. & Canada, where Wi-Fi or 3G/ 4G access is available, to avoid outrageous international texting cost.
"Our customers spoke and we listened. Keeping up with all of the communications is hard enough. netTALK makes it easier to send and receive texts from one central number to and from any device. It won't incur any data usage as long as it's used on any Wi-Fi network, with no contract or monthly fees," said Anastasios 'Takis' Kyriakides, President and CEO.
He says, "Now DUO customers can save even more by eliminating the need to keep a wireless text plan from a cellphone provider when they upgrade their netTALK DUO account with the netTALK Text Plan for only $29.95* USD or $39.95* CAN per year for unlimited texting throughout the USA and Canada. This will save consumers up to $100 or more each year. First download our free netTALK Text app and sign up for less than an average of $2.50 a month! Why not enhance your communications for that little?"
Reasons to sign up:
1. One number. Trying to coordinating which number you can be reached – at work, on IM, via text, email, phone only, home phone, etc.? With netTALK, text using one number across all personal devices.
2. Any device. Ever get tired of forwarding messages from one device to another or getting a message via text and then responding via IM? With netTALK, communicate through any device that is authorized. So, no matter where or what device is being used, text messages will simultaneously update and sync.
3. No unlimited text plan? With netTALK, there is no need to watch out for usage or data plan consumption. All texts sent over Wi-Fi are free! (Great way to curb bills!)
4. When traveling internationally, texting can be expensive. With netTALK, communicate with anyone in the U.S. or Canada at no charge as long as the phone is connected via a Wi-FI network.
netTALK Text Plan Features:

Unlimited SMS to U.S. & Canada from your netTALK home phone number to any wireless carrier in North America (AT&T, MetroPCS, Sprint/Virgin/Boost, Straight Talk/Tracfone, T-Mobile, Verizon, Bell Canada, Rogers Canada, Telus Canada, Fido, Virgin etc.)
Works on 3G, 4G, or Wi-Fi
Supports tablets
Push Notification for new messages
Sound Notifications for new messages
Easily call any contact from a conversation
Easily search specific words in conversations
Sync with native contacts
Voice-to-Text Message Creation (if supported by device)
"Even when the device is off, the phone will receive offline messages; the app automatically saves them as well," added Kyriakides. Learn more at http://www.nettalk.com/text-plan.
Save hundreds in annual and monthly fees per year! To take advantage of this outstanding TEXT Plan, a netTALK DUO account is required and if you're not a DUO customer, download the free netTALK Text App and get a promo code to save 15% off the DUO purchase.
Download the free netTALK Text App at iTunes or [Google Play to sign up & start sending unlimited SMS text messages now!
About netTALK.com, Inc.
netTALK.com, Inc. is a public company (and multi-product company) engaged in the design, distribution and sale of consumer electronics products and low-cost Voice over Internet Protocol (VoIP) telephone services. Products include the netTalk DUO and DUO WiFi and the newly updated iOS (Apple) and Droid Smartphone app's (which works on most mobile devices), offering free nationwide calling in US and Canada. Users have the option to add international calling TALK credits for calling anywhere in the world without using cellphone minutes or roaming charges, eliminating the need for calling cards or contracts /monthly billed international callings plans from cellphone providers. Download the free app to at iTunes or Google Play and Amazon App Store. Learn more at http://www.nettalk.com/en/smartphone
About the netTALK DUO VoIP Product Line
Winner of PCMag.com and Laptop Editors' Choice awards, and officially designated "Business-Ready" by PCWorld, the netTALK DUO is a revolutionary VoIP telephone device and digital phone service. The tiny netTALK DUO enables free nationwide calls to any phone in the US and Canada from anywhere in the world and comes with a full list of free calling features detailed at http://www.nettalk.com. The netTALK DUO simply plugs directly into a modem (or computer) and works with any home phone and you can also keep your existing number. The netTALK DUO WiFi is the next step in the evolution by operating from any WiFi connection, and the netTALK DUO II is the same as the netTALK DUO, but offered at a lower introduction price point with a shorter initial calling plan.
netTALK offers a number of inexpensive international calling plans for the DUO line of products that is suited for every budget.
Follow us on Twitter, @nettalk; like us (and talk to us!) on Facebook: http://www.facebook.com/netTALK.
More information is at http://www.netTALK.com or http://www.netTALK.ca for Canada.
Forward-Looking Statements
This news release may contain forward-looking statements made pursuant to the "safe harbor" provisions of the private securities litigation reform act of 1995. While these statements are meant to convey to the public the company's progress, business opportunities and growth prospects, readers are cautioned that such forward-looking statements represent management's opinion. While management believes such representation to be true and accurate based on the information available to the company, actual results may differ materially from those described. The company's operations and business prospects are always subject to risks and uncertainties.
Company Contact:
netTALK.com, Inc.
Cedric Guillory / Senior Director of Marketing
cedric [@] nettalk.com
Canada PR Media:
Nelson Hudes
US: 305.587.2491 / Canada: 647.847.1435
nelson[@] hudescommunications.com