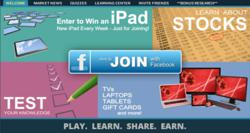 "Members are eagerly sharing the website with their friends on social media accounts to inform them of the prize giveaways."
Los Angeles, CA (PRWEB) April 10, 2013
Just a little over one month after the debut of RedRockInsights.com, more than 4,000 have joined the website. Attracting this many members in such a short period of time not only speaks to the website's potential longevity, but also the need for comprehensible stock market information like Red Rock Insights provides.
Red Rock Insights aims to demystify the stock market by providing brief, understandable lessons about contemporary economics. Members can then apply what they have learned by completing fun quizzes and collecting points to earn prizes.
These prizes are a pivotal part of Red Rock Insights' initial success. Already, visitors are flocking to the site for the free giveaways. Members can collect points and redeem them to be entered in drawings for state-of-the-art gizmos like iPads, Kindles, and Samsung Galaxy tablets. At random times on a weekly basis, free Amazon gift card offers will appear on the site for members lucky enough to stumble on them.
Thus far, the contest drawings have been a great way of inciting word-of-mouth buzz. Members are eagerly sharing links to the website on their social media accounts to inform their friends of the prize giveaways. RedRockInsights.com's own social media account is also quite active. The site's Facebook page is poised to cross the 1,000 Likes threshold any day now.
One popular aspect of the website is the Learning Center. Therein, tutorials include short essays on bonds, stock market crashes, credit unions, and penny stocks. In plain English, the site helps users to better comprehend terms they may hear fairly often but have never actually understood what they are or how they work.
The site's Market News section is also a valuable tool for stock market novices and experts alike to see the Dow (or Nasdaq or S&P 500) average, track a specific stock performances, and read other financial headlines. As readers learn more about the market, they can make more informed decisions when it comes to investing their money.
In the meantime, the site is well on its way to reaching 5,000 members. Soon, RedRockInsights will offer a new feature allowing members to play a fantasy stock trading game. Using virtual dollars, participants can play the market and put their knowledge and instincts to the test without risking their money. It's a great way for new investors to see whether playing the stock market is right for them.