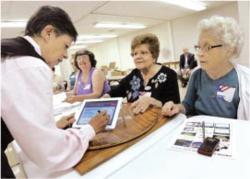 The Poll Pad™, an electronic poll book that checks voters in on an iPad instead of paper lists, can process a voter in 20 seconds or less ... leading to a much faster and simpler process for voters
St. Louis, MO (PRWEB) April 10, 2013
Coming off the heels of a successful November General election, KNOW iNK (http://knowink.com) is excited to announce that 28 Missouri and Kansas counties used the Poll Pad in the April Municipal Election, including recently signed on St. Charles County.
The Poll Pad™, an electronic poll book that checks voters in on an iPad instead of paper lists, can process a voter in 20 seconds or less and allows voters to avoid lines that are split up in alphabetical order, leading to a much faster and simpler process for the voter.
St. Louis NBC Affiliate KSDK featured the St. Charles Poll Pads on the evening news, pointing out that St. Charles County estimates it will save up to $1 million of taxpayer dollars by implementing the Poll Pad.
Founder of KNOW iNK and former St. Louis City Election Director, Scott Leiendecker, was pleased with the performance of the Poll Pad. "The Poll Pad performs so flawlessly because it is based on the Apple iPad platform. Like other Apple Products, it 'just works.' Election authorities love the Poll Pad because it's easy to store, easy to operate, and makes voting easier for everyone. With billions in product development and research invested into the iPad, it makes perfect sense to implement it in polling places everywhere" said Leiendecker.
After just one year since its launch, the Poll Pad has been implemented in dozens of counties and three States. More election authorities across the country are looking to begin using the Poll Pad in upcoming elections.
"We are very excited by the overwhelming positive response we have received. We have shown in Missouri the Poll Pad is far easier to use than competing products and saves election authorities money on the front end as well as on the back end. Implementing this revolutionary technology in counties across the US will make voting easier and faster for everyone" said Leiendecker.
About KNOW iNK
KNOW iNK is an election technology company founded by former election officials. Founded in 2011, KNOW iNK is the only company in the country implementing Voter Check-In iPad technology in polling places. The Poll Pad is an electronic poll book solution designed to process voters faster and with more accuracy than using paper based lists.