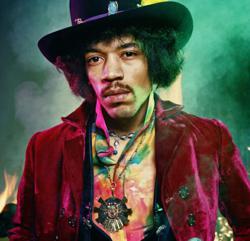 It would be great to see Freddie Mercury on stage again, but there's no way a hologram could capture his charisma
Los Angeles, CA (PRWEB) April 11, 2013
Jimi Hendrix holds a narrow lead over Freddie Mercury as the musician most fans would like to see perform as a hologram at the 2013 Coachella Music and Arts Festival on Ranker's "Dead Musicians You'd Like To See Perform At Coachella" list, a a crowd-sourced list on the consumer opinions website, Ranker.com. More than 1200 people have voted on the list as of April 2013 and the variety of performers fans would like to see return to the stage after death are as varied as the acts at this year's festival. Fans would have the hologram concept, which resurrected slain rapper 2-Pac during Dr. Dre & Snoop Dogg's set at the 2012 Festival, bring back performers from Bob Marley to Wolfgang Amadeus Mozart to entertain the masses in the Indio desert.
The rest of the Top 10 Dead Performers Who Should Be Holograms are as follows:
1) Jimi Hendrix
2) Freddie Mercury
3) Bob Marley
4) John Lennon
5) Johnny Cash
6) Jim Morrison
7) Elvis Presley
8) Kurt Cobain
9) Wolfgang Amadeus Mozart
10) The Beatles
Music enthusiast Brian Gilmore enjoyed the Tupac hologram last year, but doesn't think all music legends would benefit from digital reanimation. Said Gilmore, "It would be great to see Freddie Mercury on stage again, but there's no way a hologram could capture his charisma".
See the full list of Performers Who Should Be Holograms, as well as 1000's of other Music lists at Ranker.com.
Ranker.com is the premier data source for aggregated consumer opinions. Over seven million people go to Ranker each month to view, rank and vote their opinions on matters both entertaining and practical. Ranker's proprietary algorithms and datacentric approach to opinion aggregation deliver the most credible answers from "the best" to "the worst" across a wide range of topics including food, sports, travel, entertainment, cars and many others. For more information, visit Ranker.com.