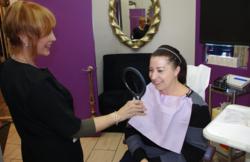 Those who have trouble saving money instantly have what they need to look the way they want.
New York, New York (PRWEB) April 10, 2013
Money flows all year long in New York City. But at tax time, many career women see it flow right to them. Appearance-driven professionals are spending some of it on permanent makeup as a personal reward for their hard work.
The Internal Revenue Service reports this year that more than three-quarters of the Americans filing income tax statements will receive a refund. They say the average tax refund check is greater than $3,000. Some will send the money right back to work for them on Wall Street. Others may pay down credit card debt. But every Spring, many tri-state area women turn their refunds into rewards by investing in their appearance. Permanent makeup presents unique value and benefits among cosmetic services in terms of time and money.
"There are a few reasons working women spend income tax refunds on themselves," says Sally Hayes, a permanent makeup NYC artist based in Lower Manhattan. "Uncle Sam and Mother Nature come together to create a golden opportunity for women. Those who have trouble saving money instantly have what they need to look the way they want. And don't forget every Spring creates a time of new hope and new beginnings for many women."
Since 1986, Hayes has been helping women enjoy new beginnings with a fresh, youthful appearance enhanced by permanent makeup. She specializes in a number of procedures including eyebrow tattoos, permanent eyeliner, and permanent lip makeup. Her permanent makeup NYC location is downtown inside the offices of Tribeca Plastic Surgery.
Permanent makeup, also known as permanent cosmetics or micropigmentation is the process of tattooing dermatological tested pigments into the dermis layer of the skin. It creates the appearance of balanced, natural-looking makeup for women, with results which last for years. The benefits appeal mostly to those who want to save time every day, or just want to look and feel more beautiful.
"Like it or every career woman is judged on her appearance. It doesn't matter what industry. It doesn't matter whether she works in New York, New Jersey, or Connecticut," says Hayes. "So every working woman who understands the importance of how she looks also knows investing in her appearance delivers both professional and personal rewards. Besides, after working hard all year, what woman wouldn't want to feel like she's earned the right to use some of her income tax refund for a bit of pampering?
About Sally Hayes Permanent Makeup
Sally Hayes is highly regarded across the United States as a leading permanent makeup expert artist. Many leading cosmetic surgeons refer their patients to her. In her career spanning more than 25 years, she has performed tens of thousands of successful permanent makeup procedures mostly for women who want to enjoy added freedom and confidence in their appearance.
Contact Information:
Sally Hayes Permanent Makeup
44 Hudson Street
(inside offices of Tribeca Plastic Surgery)
New York, NY 10013
(646) 606-2820