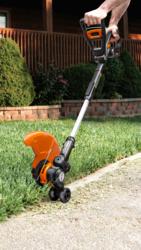 Charlotte, NC (PRWEB) April 10, 2013
There's no starting woes with this green trimmer; just squeeze the trigger and go.
The WORX 20-volt trimmer has a 2.0 amp hour battery that provides nearly twice the battery capacity than its predecessor, plus 2 in. more cutting capacity (12 in. swath), 2 in. longer adjustable shaft, and two wheel positions. One position is for edging, and the other lifts the trimmer 3 in. off the ground to function as a mini-mower.
When the wheels are in the mini-mower position, it trims between bushes, beneath picnic tables, that narrow strip of grass between homes in urban lots and other hard-to-reach areas, such as berms, at a consistent 3" height.
Unlike ordinary trimmers, the shaft of the GT trimmer tilts 90°. This feature allows the user to trim beneath decks, shrubs and other obstructed, hard to reach areas. The tool's automatic line feed system ensures there's plenty of line to get the job done quickly and efficiently.
The trimmer converts into a wheeled, walk-behind edger with a simple twist of the cutting head. Instead of free-form edging, the trimmer incorporates a pair of wheels to drive a keen line along sidewalks, drives and patios. It also has a spacer guard and when fully extended, assists as a caution guide when trimming near sensitive areas, such flower beds, tree trunks plants, and yard ornaments.
Ergonomics plays an important role in string trimmers. This trimmer is nicely balanced and lightweight, weighing less than 6 lbs. with battery. It also features an adjustable rubber-coated handle for maximum comfort and control.
The grass trimmer operates at a no-load speed of 8500 rpm, driving the durable, braided, spiral line (0.065 in, diameter) through grass, weeds and light brush. There's no fumbling with line changes. WORX incorporates a quick-change, snap-in spool system and includes three free spools. WORX Spools for Life program begins once the GT trimmer is registered. The user receives free spools for the life of the tool and only pays for postage.
The GT Trimmer/Edger has earned the right to bear the Energy Star label. Products with the Energy Star label are considered eco-friendly, help prevent global warming and promote cleaner air.
The WORX 20V Max Lithium™ GT 2.0 Grass Trimmer/Edger/Mini-Mower, WG160, $119.85, includes one 20V Max Lithium battery pack, an Energy Star rated charger, and three spools of line. It's available at http://www.worxyardtools.com.
# # #
Editor's Note: For hi-res images and additional information, contact MKM Communications at mkmcomm(at)gmail(dot)com or call 847-255-1903.