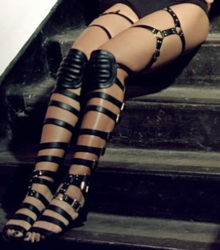 Their thigh-high 'Dogma' sandals are a good example of the Haus Von Lila styling that will have heads turning in New York
Las Vegas, Nevada (PRWEB) April 10, 2013
"It's easy for footwear industry execs and buyers to become a bit jaded when viewing the thousands of shoes on display at the annual Magic Footwear Exhibition in Las Vegas but, this year," according to Winnie Peng of http://www.Shoe-Manufacturer.com, "when passing the Haus Von Lila booth, heads were turning and the shoe professionals were doubling back to get a better look".
Peng (pronounced "Puhng") goes on to say:
"When we were approached at Shoe-Manufacturer.com by the Haus Von Lila brand to manufacture their new footwear designs we were especially excited.
"Not only did the HVL designs make great use of color and elements, but some of the designs were especially unique and exciting with innovations that should bring Haus Von Lila a lot of attention and the success they deserve.
"Their thigh-high 'Dogma' sandals are a good example of the Haus Von Lila styling that will have heads turning in New York and around the world, and have shoe lovers anxious to know where they can purchase this exciting new brand.
"It will be the lucky few who are able to grab the first generation of these great styles that we are producing now for Haus Von Lila.
"There's little doubt that there will be copy-cat imitations of their styles in the future, but to have an original Haus Von Lila will be very special for any serious shoe lover."
About:
Winnie Peng is Senior Project Manager for China Product Sourcing and Marketing Ltd. (CPSM), fashion manufacturer and leading producer of footwear for independent designers and footwear importers around the world, http://www.Shoe-Manufacturer.com ,
and previously Senior Inspector of Quality Control and Corporate Compliance for Best Seller of Hong Kong, supplier of Europe's largest fashion retail group, Best Seller.
She can be contacted in the USA at Tel 336-775-8615, in China at 136-6233-4753 or on Skype at winniethepooh9.
About:
Lexis Global Marketing LLC (LGM) works with client companies todevelop and implement their marketing programs and strategies,domestically and internationally. http://www.LexisGlobalMarketing.com
LGM is also a supporter of the Bee Wise Kids, BeeWiseKids.org, educational initiative and curriculum to prevent childhood sexual molestation, and Green Ribbon Schools, GreenRibbonSchools.org , the nation's premier interactive learning site for 6th through 12th graders, a project of 4empowerment, headquarters in Austin, Texas.
Contact:
David Amos, Director
Lexis Global Marketing LLC.
Tel 1-336-817-7376
Email: damos(at)lexisglobalmarketing(dot)com
Address:
931-B South Main St., Suite 154, Kernersville NC USA 27284