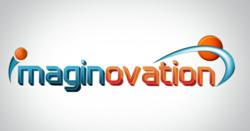 Raleigh, NC (PRWEB) April 10, 2013
Imaginovation, a Raleigh web design and software company, is planning to re-brand its identity. After months of planning, research, and preparation, their creative and development teams formed a new brand identity and personality for the company. This new identity has emerged from combining the strengths and expertise of the team, and most importantly the aspect which makes them different from their competition.
The new slogan: "Imagination turns to Innovation", was selected to reflect the companies very talented and creative team of Raleigh web designers and marketers, which portray their "Imaginative" ideas for their client's projects, and Imaginovation's experienced development team actually "Innovate" those ideas and turn them into life through programming and design. It symbolizes a collaboration of the "cool" marketing strategies and UI designs with their design and development skills that they use to provide customers with the best of both worlds through creativity/strategy and implementation. The company plans for this new brand identity to differentiate them and reflect why they are special in the competitive world of web design and software development.
The logo has been revamped with a new color scheme of light blue and orange, which has been researched to represent professionalism and creativity, and are also two characteristics that Imaginovation displays as a part of their brand identity. In addition, the logo has been restructured and modernized in terms of the quality of the image, round edges, 3D effect, and brightness of the design.
Based in Raleigh North Carolina, an authority in design and development, Imaginovation implements custom software, website design, SEO, and Internet marketing solutions to companies who need a boost towards their online presence and online capabilities. Contact Imaginovation - A Raleigh web design company to learn more about their web design and eCommerce development, SEO, and custom software development. Visit http://www.imaginovation.net for a free consultation.