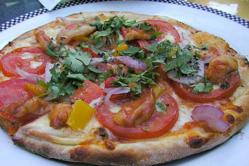 "We help campers learn how their favorite foods can be prepared in healthier ways," commented John Gordon, Owner and CEO of BalanceME
Asheville, NC (PRWEB) April 11, 2013
BalanceME's fitness and health weight loss camps for teens and kids join the nation in bringing awareness to National Food Month. While many view healthy food as "diet food", BalanceME has created a nutrition and culinary plan that teaches kids, teens, and their parents that delicious food can be nutritious food.
In a classroom and demonstration setting, campers are taught portion sizes, taste profile, and healthy substitutions. Plus, campers gain culinary skills to understand what goes into their food and how to prepare simple meals at home.
"At our weight loss camps for teens and kids, we help campers learn how their favorite foods can be prepared in healthier ways," commented John Gordon, Owner and CEO of BalanceME, "Plus we expand their taste palette to include new foods they love that are healthier for their bodies."
As part of the BalanceME experience, seasoned chefs and nutritionists have designed a curriculum that shows teens the science of good nutrition, then train them on how to prepare healthier versions of the foods they already love by simpling changing the ingredients.
With this healthy, realistic plan, BalanceME campers had the highest reported weight loss of any weight loss camp for teens in 2012, with campers averaging 4.25 lbs lost per week.
Because kids face shame from peers and adults about their weight, campers at BalanceME often arrive with a negative, stressful relationship to food and feel powerless to change their food habits.
Having a good relationship with food means realizing that food is the body's fuel. It is important for campers to know that their mood, energy levels, and performance at school or in sports are all affected by what kind of food fuel they're consuming.
"While it's great to try new things, it's also good to know that many of our favorites foods can be made in a healthy way," continued John Gordon, "That's what campers at our weight loss camps for teens and kids learn."
In honor of National Food Month, BalanceME is sharing some of their favorite recipes, proving that some of our nation's favorite foods can be healthy. Recipe can be found here: http://balanceme.com/health-camp-recipes/.
Families interested in learning more about BalanceME can contact John Gordon at (800) 975-0435 or visit BalanceME.com for more information.
###
BalanceME health camps (http://www.BalanceME.com) were created in response to the growing obesity epidemic and the unmet needs for a realistic, scientific, and personalized approach to fitness and weight loss. The BalanceME approach, called the ME Plan, is designed to Motivate & Educate on diet + activity + lifestyle changes. Founded by professionals and guided by experts who provided leadership to some of the largest behavioral health, mental health, and treatment programs in the country, BalanceME is working to become the leader in fitness and weight loss programs. BalanceME operates three summer camps in Cape Cod, Massachusetts, Dallas, Texas, and Santa Cruz, California. For additional information please visit http://www.balanceme.com or call (800) 975-0435.