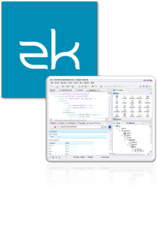 ZK Studio is a visual IDE providing intuitive tools that span the entire application development lifecycle.
London (PRWEB) April 12, 2013
ZK Studio is a free visual IDE providing intuitive tools that span the entire application development lifecycle. It is the easiest way to create a new project. The new project wizard guides developers through creating ZK projects step by step, making it exceptionally easy to choose the project name, ZK version and target runtime.
In addition to the default wizard, ZK Studio enables you to create a new project using Maven. ZK Studio will handle the entire Maven project creation process for you allowing you to concentrate on building your project.
In ZK Studio 2.0, the ZUL editor introduces an exceptionally powerful feature providing content assistance for both the MVC and MVVM patterns. This saves developers time reducing their burdens in memorizing various APIs and syntaxes by popping up context-aware proposals to be chosen for inserting elements when typing in ZUL editor increasing efficiency and improving user experience.
Additionally, the ZUL editor provides advanced syntax checking for ZScript as well as data binding expressions thus increasing a developer's productivity. Incorporated into this is the ability to mark tokens throughout the applications, by marking a token it will be shown in ZScript, tags and data binding expressions.
On the other hand, the component palette provides developers with a list of the components available in ZK and they can be dragged and dropped onto the ZUL editor directly enabling developers to build their user interfaces quickly and efficiently.
To learn more about ZK Studio, visit release note, new features or download it right away!
Potix Corporation develops and supports highly productive open source solutions in the area of Java and growing Dart. Our flagship product ZK, is the leading Java web framework for enterprise level web & mobile applications. Leveraging the powers of Dart & HTML 5, Rikulo is a framework for creating cross-platform web & native mobile applications.
Innovation is the most driving force behind the growing Potix. Potix delivered the first Server+client Fusion architecture, first embeddable Java web spreadsheet, first true pivot table and first Ajax framework to bring applications from mouse to touch in one codebase and component set.
ZK has more than 1,500,000 downloads since its first release in late 2005. ZK is deployed by a large number of Fortune Global 500 companies, including Barclays, Allianz, Swiss RE, eBay, Roche, Deutsche Bank, Sony, Sun Microsystems, Audi and Toyota, providing them with the ability to rapidly create rich Ajax enterprise level applications.