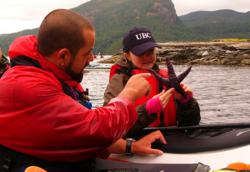 Wildcoast provides the spectacular scenery, all equipment and scrumptious food to provide a family wilderness adventure like no other.
Quadra Island, BC (PRWEB) April 12, 2013
Wildcoast's kayak and camping vacation packages are now available at a 25% discount off the regular price for kids 16 and under. From seeing Killer Whales (Orcas) in Johnstone Strait to swimming in the warm waters of Desolation Sound, both adults and kids can have an amazing outdoor experience and reconnect with nature on these great kayak vacations.
"Kids are increasingly making adults aware of the importance of the environment. Our kayak vacations provide a tactile experience where parents and kids get to share this experience in a fun way," comments Wildcoast co-owner Valerie Glendenning. "With miles of remote coastline to discover, all ages are treated to wildlife encounters which can include bald eagles, orcas, dolphins, sea lions, and black bears. Each trip also provides the opportunity to hike native trails to fresh water lakes and hidden waterfalls."
As environmental stewards of the future, getting youth outdoors provides the opportunity to learn about wildlife, forests, and past traditions – all while enjoying the simple pleasures of just being kids. From the star filled nights to the meaningful encounters with nature, families build a host of memories during these kayak adventures.
Complementing each kayak experience are fresh meals using local fare carefully selected by the gourmet chef at Quadra Island's Gowlland Harbour Resort. Wildcoast highly recommends staying at Gowlland Harbour Resort before and after each kayak adventure and if desired can make all arrangements during booking.
Wildcoast Adventures Ltd. provides kayak trips and vacations in Desolation Sound, Johnstone Strait, and the Discovery Islands in British Columbia, Canada. All trips depart from Quadra Island located in the renowned Discovery Islands, only minutes away by ferry from Campbell River in British Columbia, Canada. Focusing on providing memorable outdoor experiences that combine spectacular scenery, delectable food and wildlife viewing for adventure travelers, Wildcoast is dedicated to maintaining top-rated service for local and international clientele.
Thanks for reading! To learn more, connect to the Wildcoast blog.