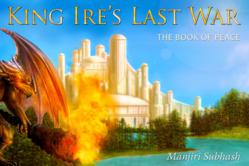 "Imagine all the people living life in peace. You may say I'm a dreamer, but I'm not the only one. I hope someday you'll join us, and the world will live as one." John Lennon
Palo Alto, CA (PRWEB) April 18, 2013
King Ire's Last War: The Book of Peace is a story of compassion winning over aggression, thus parents and teachers would find it useful to instill conflict resolution skills among children. The story takes about 15 minutes to read, and there are plenty of follow-up discussions tips at http://www.kingireslastwar.com/ 
King Ire is an ever present danger in our everyday lives. He confronts us behind the face of a bully on the playground, a mean boss at a workplace, a tyrant power monger exploiting people, or a militant shooter taking aim at innocent lives. Such is his force that ever since humans have lived on earth, he has instigated warfare of some kind or another somewhere on the planet.
King Ire's Last War takes us into the bleak world under King Ire's rule. His rampage continues until he comes across a kingdom that is like no other. But when King Ire declares war on the little kingdom, it turns out to be his last war.
Who does King Ire fight with, and why is it his last war?
Stunning visuals and crisp narrative unravel the story to show us who wins and why; and how our hearts and minds play a big role in that outcome. And as it highlights the recurrent conflict between the forces of aggression and compassion, the fable makes a compelling case for nurturing the better — albeit delicate — angels of our nature.
The Kindle version of the book is available at http://www.amazon.com/King-Ires-Last-War ebook/dp/B00BW74D76/ref=sr_1_4?ie=UTF8&qid=1365568930&sr=8-4&keywords=king+ire.
King Ire's Last War: The Book of Peace
By Manjiri Subhash
Gandheeva Media
e-book (Version-1) 57 pages
ASIN: B00BW74D76
Publication Date: March 18th, 2013
About the Author:
Manjiri Subhash is a popular yoga teacher in the Bay Area. Passionate about human progress and well-being, she strives to deliver health, happiness, and peace through yoga and other creative projects.