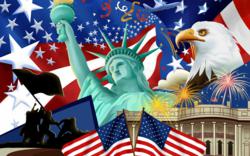 Smile and keep on keeping on. We shall prevail!
Novato, CA (PRWEB) April 10, 2013
"Born To America!" was composed, produced and performed by Neil H. Brandt in honor of American spirit, determination, and good will. This musical video also gives tribute to all the dedicated men, women and veterans who serve in the armed forces to keep this country safe and free. See the breath taking clips of the cutting edge technology and spectacular national monuments. The song was originally played on The Voice of America and heard throughout the world. This exciting, patriotic anthem received favorable comments from people all across this land including Presidents, Senators and Congressmen.
The original version was revised and now released as a YouTube video to inspire, motivate, and restore confidence in this country during another crisis in the Nation's history.
As the news media is once again focused on a serious threat to the country, there is a feeling of uncertainty and dred. Neil's video 'Born To America!' will help pull the nation together. This fun video was produced for enjoyment and comradery as well as appreciation for what the nation stands for and is meant to be shared by all.
About The Messiah Network:
The Messiah Network, responding to the challenges of the world in which we live and the moral and ethical issues we face, offers a solution. Visit TheMessiah.Net. Follow on Twitter, YouTube, Facebook or read the Blog on TheMessiah.Net.