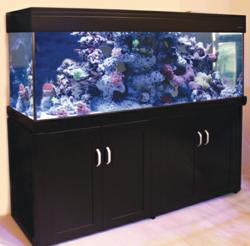 designed to resist everything salt can throw at it
Sydney, Australia (PRWEB) April 12, 2013
The AquaReef from Aqua One are a new bench mark in purpose designed aquariums for all salt water fish keepers. Constructed totally from non corrosive materials including alloy space frame cabinet with plastic panels these truly are designed to resist everything salt can throw at it.
Each model is supplied fully assembled with built in overflow weir, plumbing and pipe work as well as a purpose designed sump. The sump houses all the essential equipment needed to run a marine system. This includes a circulation pump, filtration media, heater and efficient protein skimmer, leaving plenty of room for customisation. The all new patented T5 lighting system provides the essential lighting requirements for most reef keepers.
After adding the new AquaReef 195 and 500 aquariums, the AquaReef range now has 5 different size tanks to offer; 195L, 275L, 300L, 400L, 500L. For more information and pricing visit the Majestic Aquariums website: http://www.majesticaquariums.com.au.
To see the AquaReef 400 being set up, visit the Majestic AquariumsTV Youtube channel.