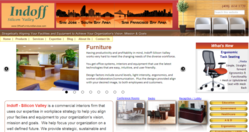 Office Furniture San Jose | Indoff - Silicon Valley, Commercial Interior's Web Site focuses on how office furniture and equipment contributes to Organizational Goals.
San Jose, CA (PRWEB) April 10, 2013
The new website illustrates Indoff's extensive office furniture product offerings combined with excellence, service and local decision-making. Instead of clients searching for and evaluating individual pieces of furniture, the site encourages Office and Facility Managers to outsource or partner this task to Indoff - Silicon Valley. Indoff uses the "Consult, Design, Source, and Install approach." Indoff - Silicon Valley's excels at "listening to needs, providing design alternatives, sourcing the project, and complete service including installation through sign off."
Indoff – Silicon Valley specializes in office interiors designed to provide efficient workspaces. With an emphasis on increasing profitability through a well-planned and cost efficient design, Indoff – Silicon Valley offers an extensive range of products and services including design and installation services, ergonomic assessment, and project management. Their designers are trained to help businesses get the most out of their interior space (and occasionally, their exterior furniture too). Indoff – Silicon Valley represents over 400 manufacturers and can source nearly any specialized product or manufacturer. The Indoff Corporate website is http://www.indoff.com.
Indoff – Silicon Valley is attracting larger clients and architecture and design firms that spec office furniture with their projects. Serving this expanded market required a new website. The redesigned site is easier to navigate and provides better visitor interaction. A new blog gives insight and information about topics of interest to anyone designing and planning office space, especially in the growth prone San Francisco, Silicon Valley area.
A recent customer, Laura Jacobs, Certified Financial Planner for Waddell and Reed in Campbell, discusses her experience with Indoff - Silicon Valley. "I especially liked their perseverance and listening. I had a general idea of what I wanted and they did not give up on me, even with my hesitancy and changes."
Ms. Jacobs sums up her experiences with Indoff-Silicon Valley as: "They are helpful, care about their clients being happy with the right (furniture) piece, not just about selling products."
The website is designed and managed by Peter Harnack, Indoff - Silicon Valley's local representative, who is personally responsible for its' content and its' blog. Updates will be attentive to the unique needs of Silicon Valley & the San Francisco Bay Area. Blogs and Social Media content will be frequent and focused on customer needs and feedback. The website even includes a "website survey form" to encourage client and visitor feedback.
For additional information contact Peter Harnack, Indoff - Silicon Valley representative at 408-656-1709.
Indoff - Silicon Valley primarily serves the greater San Francisco Bay area and Silicon Valley and includes service to Large, multi-location Corporations with their National Purchasing Standards.