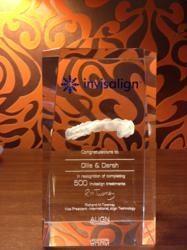 Liverpool, UK (PRWEB UK) 10 April 2013
Liverpool dentist, Ollie & Darsh, have this week been presented with a plaque to commemorate the fact that the clinic has completed 500 Invisalign treatments.
After launching in November 2008, Ollie & Darsh have now become the first Liverpool dentist to realise this achievement – impressively, in less than five years.
The plaque was presented to Business Manager of the dental clinic, Suzy Gorman.
Suzy Gorman said of the achievement:
"The most important people to thank are our clients at Ollie & Darsh. Not only those who have chosen to have the treatment with us but also those whom have taken the time to visit us in all capacities. It is as much a testament to them as it is to anyone else.
"We now look onwards. Whilst we are proud of being the first 500 Invisalign provider in Liverpool, we now strive to new milestones, and continue to look gratefully at the support of our team and our clients."
Invisalign treatments use clear aligners to gradually move teeth into the desired position, allowing patients to have all the benefits of traditional metal braces without the appearance of any orthodontic treatment.
This accolade comes only weeks after Co-Founder and Clinical Director, Dr. Daz Singh was awarded the honour of Six Month Smiles Mentor, another specialist treatment to help gently straighten and align teeth.