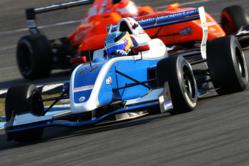 The team is great, it's only small but full of great guys who have a lot of experience and really know what they're doing.
(PRWEB UK) 11 April 2013
With a huge 38 car grid lining-up for the first three rounds of the new campaign, featuring a number of vastly experienced 'guest' racers from the sister Eurocup Formula Renault 2.0 series, the 18-year-old rookie certainly had his work cut out on his race debut for Mark Burdett Motorsport.
Raoul more than rose to the challenge though, putting a difficult qualifying session behind him to record a best result of 13th place in round one on Saturday, 6th April, before adding a brace of top 15 results in Sunday's pair of encounters.
"I'm fairly happy", said the Cape Town-based driver, "It's been a solid first weekend and it was only qualifying that limited us from being in the top 10 in every race. It was always going to be difficult with so many guys from Eurocup taking part, considering all that I think it's been a good start.
"The team is great, it's only small but full of great guys who have a lot of experience and really know what they're doing. It has a fantastic atmosphere, just the kind I like, and working on my driving with Robbie Kerr [driver coach – 2002 British Formula 3 Champion] really is fantastic."
Qualifying did set the scene for the Bright Spark Ventures-backed teenager's weekend, Raoul admitting he wasn't quite able to extract the optimum performance from his new tyres when he needed to in the all-important session – costing him a shot at the top 10.
Instead lining up 20th on the grid for round one, the British-born driver gained three places on the first lap alone and continued to make strong progress. Into 14th position by mid-distance, he then took 13th at the expense of experienced runner Ed Jones on lap 10 to cap an impressive debut drive.
Round two on Sunday morning required even more in the way of hard work from Raoul, lining up 24th on the grid rather than 16th position after officials removed his best qualifying time when they deemed he had exceeded track limits – something Raoul denied.
Having to accept the decision, he focused on making a charge up the order similar to the one he'd delivered in the opening race and he did so with a terrific performance. Launching into the top 20 after a great getaway, following a lengthy Safety Car period the racing resumed on lap six and Raoul made his way into 15th position before the finish.
"I was a bit disappointed after qualifying", commented the NEC newcomer, "We didn't find the peak of the tyres, I need to improve on getting them to work at their best. During the limited time I've had in the new car though, I haven't had a lot of experience running on new tyres so it's something that will come with a bit more testing.
"From 20th to 13th in race one was a decent result, I was happy with that, and to come through into 15th from 24th on the grid in race two was even better. It was a shame we couldn't start where we should have in the second one, the decision to remove my best time in qualifying was odd – I didn't exceed the track limits!"
In round three on Sunday afternoon, Raoul fought his way up from 13th place into the top 10 but lost more than the ground he'd gained a few laps in when pushed wide at the hairpin. Slipping to 15th by the time he re-joined the racing line, the result nonetheless sealed an impressively solid debut.
Formula Renault 2.0 NEC will remain in Germany for the second event of the season on 20th/21st April at the Nurburgring. Before then, Raoul will have the opportunity to test at the world-renowned venue this coming Tuesday, 9th April, and Wednesday, 10th April.
2013 Formula Renault 2.0 Northern European Cup Standings (after Rd3):
12th Raoul Owens, 20pts