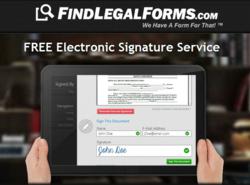 Our new free E-signature service is a logical extension of our commitment to help individuals and small businesses save time and money when they quickly need enforceable multi-party signatures on their legal documents.
Palm Desert, CA (PRWEB) April 16, 2013
FindLegalForms.com announces the launch of its 100% Free Electronic Signature Service. The FindLegalForms E-Sign Service provides individuals and small to medium sized businesses a zero-cost option for signing and uploading documents online – welcome relief during these challenging economic times.
FindLegalForms.com is Better Business Bureau A+ Rated, and one of the nation's oldest and most trusted online providers of legal forms. Bahman Eslamboly, FindLegalForms.com founder, stressed that "our new free Electronic Signature Service is a logical extension of our commitment to help individuals and small businesses save time and money when they quickly need enforceable multi-party signatures on their legal documents."
The service, available at http://www.findlegalforms.com/esign/, gives users the ability to instantly share the unsigned documents with their specified participants, gather signatures and automatically distribute the executed agreement. Additionally, the Electronic Signature Service includes a transaction record that helps verify all of the signatures in case authenticity is ever questioned.
And, as another high-value, time-saving feature for small business owners and managers on the go, the E-Sign Service lets users view and electronically sign documents using their iPhone or smartphones, iPad and other tablets, as well as their desktop or laptop computer. Better yet, no special APP downloads or special software is required.
Electronic signatures are governed by the U.S. E-Sign Act of 2000 as well as the Uniform Electronic Transactions Act, signed into law by President Clinton, and are considered valid in all 50 states. Up until now, using electronic signatures has required special software, was often confusing and complicated, and for many users, cost-prohibitive to implement across a business. FindLegalForms.com has changed all that.
E-SIGNATURE BENEFITS
But why would individuals and businesses want to use electronic signatures in the first place? With the advent of the Internet, nearly every individual and enterprise conducts business with people across town, or across the country. It is not unusual for a customer to never physically set foot on a business's property, for business partners to never meet in person, or for work colleagues to not inhabit the same workspace. Electronic Signatures give all of these parties the ability to securely and instantly sign important agreements that kick off the relationships or keeps business flowing.
In addition to helping business move at the speed of the Internet, in nearly every conceivable industry, E-signatures also provide businesses ranging from big corporations to small independent consultants the ability to:

Enhance the customer service experience;
Ensure the integrity of the document by disallowing changes after the first signature;
Integrate No-Cost e-signing into standard online business practices;
Provide instantaneous, on-the-go convenience of signing documents with smartphones and tablets.
Eslamboly continues, "by adding the No-Cost E-signature service to the huge library of Free Legal Forms (which cover everything from intellectual property and business forms, to dozens of employment contracts and forms such as legal assignments, collections, health care, Internet, and real estate forms) we've made FindLegalForms.com the most valuable and affordable online legal help resource ever."
FindLegalForms.com was founded in 2001 by two attorneys and is based out of Palm Desert, California. Attorneys prepare and continue to maintain self-help legal forms available at FindLegalForms.com, many of which are forms designed for use in specific states across the U.S.
FOR ADDITIONAL INFORMATION
Contact: Steve Martinez
FindLegalForms, Inc.
http://www.findlegalforms.com
(760) 322-6900
steve(at)findlegalforms(dot)com