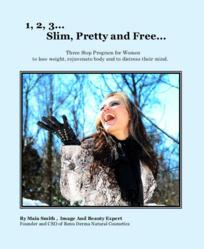 Having a beautifully healthy body and spirit just got easier!
Salisbury, NC (PRWEB) April 11, 2013
Women balancing busy lives will find easy-to-follow guidance to transform their personal health and beauty in Maia Smith's 1,2,3...Slim, Pretty and Free. Smith, an Image and Beauty expert, shares her insider info on how to look beautiful, feel great and stay healthy. The book includes simple and nutritious menu plans for a 7 day physical and spiritual detox, natural old-world beauty recipes and a guided online video workout with fitness model Eve Freeman.
"I operated an upscale women's boutique even before founding Renu Derma Natural Cosmetics," Smith says. "I quickly realized that I wanted to help women feel and look beautiful on a more complex level, on the outside and inside."
Her book continues to deliver the heartfelt message of a company founder with a passion for health and beauty. She maintains a blog, publishes articles in national magazines and hosts live events promoting a healthy and balanced lifestyle.
Smith`s new e- book is available in I-books format for $2.99.
To celebrate the release of her new book, Maia Smith is offering a free digital copy of 1,2,3...Slim, Pretty and Free to the first ten who sign up by this link: Sign up
Renu Derma Natural Cosmetics provides organic, anti-aging products for people who desire natural, effective skincare. Visit http://www.renuderma.com for valuable information and be the first to know about special offers. Maia Smith is a founder, CEO, leading Image and Beauty Expert and Author who has appeared in a variety of women's magazines and newsletters. She has over twenty thousand page views and database of four thousand loyal members.
Contact Maia at info(at)renuderma(dot)com
Tel: (866) 964 3932
Address: 103 S. Main St. Salisbury, NC 28144