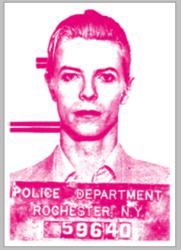 The strength of CrimeLAB London lies in its strong ties with new and acclaimed talents in the art scene.
(PRWEB UK) 11 April 2013
Art-meets-ideas agency CrimeLAB London have carved a niche role for themselves by using art as a driving force to connect brands and consumers. Set to become a welcome resource for PR, marketing and experiential agencies as well as brand managers, their creative ideas and campaigns to date have become highly applauded. "Our projects so far bring in a credible amount of ROI for the brands we work with in many forms such as increased sales, PR value or data capture," says Managing Director Liam West.
To date, their work includes projects with Coca-Cola, A|X Armani Exchange, G-Star, adidas, Morgans Hotel Group and Lulu Guinness. Bringing art-led experiences to brands, CrimeLAB London will be giving away a limited edition of 100 prints featuring a mug shot portrait of David Bowie by artist Russell Marshall - aptly, in evidence bags - as they officially launch their new website.
"CrimeLAB London's speciality is creating cutting edge art experiences, fine-tuned for a target audience, whether that is live street art, video projections, second screen experiences, paint explosions or short films," says Liam West. "We work with an amazing roster of artists and designers, and our big ideas together with their specialist talents have created some attention-grabbing projects and memorable consumer experiences."
CrimeLAB London was born after their sister company Beautiful Crime, key opinion formers in the art world and one of the first online art sales websites, started accumulating projects, brand collaborations and campaigns with worldwide brands. Lulu Guinness recently launched a limited edition 'Eye' clutch bag with BeautifulCrime.com for which artist Fin DAC produced an accompanying limited edition artwork. The clutch bags sold out instantly.
Selected brands and agencies across London will receive the free limited edition artwork of David Bowie, signed and numbered by artist, Russell Marshall. Marshall has turned the mug shot of the iconic David Bowie in to a stunning pink portrait of the music, fashion, art and film icon, created specially for the launch.
"The strength of CrimeLAB London lies in its strong ties with new and acclaimed talents in the art scene, whose potential has much more mileage than a gallery wall," says Associate Director, Ruthie Holloway. "Through our projects, we explore different routes for innovation and originality, whilst simultaneously offer new playgrounds for artist activity, creativity and success - for both our clients and our artists."