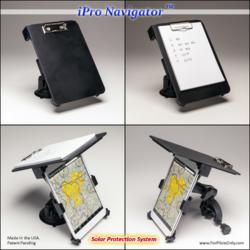 The iPro Navigator is a really unusual solution to the iPad mounting issues that face pilots.
Atlanta, Georgia (PRWEB) April 11, 2013
ForPilotsOnly.com announced today the availability of its new iPro Navigator mount for the iPad mini. The company behind the website, Atlanta Flight, Inc., adds this unique iPad solution to its inventory of aviation kneeboards for the the iPad and iPad mini tablets. The company was the first to develop a custom iPad kneeboard in 2010 and has expanded the line with several models since then.
"The iPro Navigator is a really unusual solution to the iPad mounting issues that face pilots," said the company's engineering chief, Barry Schmid. "Our new mount not only allows optimal placement of the iPad mini, it also helps minimize the problems of overheating caused by direct sunlight." Overheating and subsequent shutdown have been long-standing problems for iPad pilots. The iPro Navigator's articulating clipboard helps solve this issue by doing double duty.
The clipboard hangs in the downward position on two stainless steel pins. In this position, pilots can write notes and clearances and attach hardcopy charts. When mounted on the yoke, this puts them directly in front of the pilot.
To access the iPad mini, the pilot simply swings the clipboard upward and slides it into position across the top. This provides complete access to the iPad while shielding it from sunlight. The clipboard easily slides forward and backward in this horizontal placement. Since it is perpendicular to the iPad, the pilot sees only the edge of the clipboard. It blocks the sun without blocking the view of the instrument panel. The clipboard can be easily pulled down again, allowing it to drop into position for use.
Pilots can remove the clipboard altogether by sliding it upward and off. Reverse the simple procedure to reattach it. In the event of any appreciable forward or downward force, the clipboard detaches completely as a safety measure.
A one-inch RAM ball attachment point is affixed to the rear of the iPro Navigator. Mounting to the yoke or window is accomplished using a standard RAM yoke or suction cup mount.
The iPro Navigator is priced at $69.95 and is available from http://www.ForPilotsOnly.com as well as from the major online retailers. Images are available online at http://www.ForPilotsOnly.com/gallery-navigator.htm.