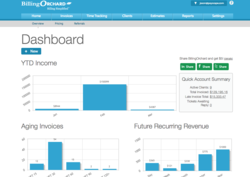 Together BillingOrchard and Salestrackr provide a powerful solution to tracking account activity and managing cash flow within one interface
Atlanta, GA (PRWEB) April 12, 2013
BillingOrchard, a leading cloud-based accounts receivables solution for small to mid-size business owners, announced today an integrated partnership with Salestrackr CRM. The integration allows customers to view accounts receivables and invoicing account history within the Salestrackr CRM platform.
"We are thrilled to partner with a CRM designed for small business owners and together BillingOrchard and Salestrackr provide a powerful solution to tracking account activity and managing cash flow within one interface," says Jason Swenk, Chief Innovation Officer of BillingOrchard.
The seamless integration is made possible through BillingOrchard's API which allows third party developers to pass data back and forth from BillingOrchard to an integration tool such as a CRM.
"BillingOrchard's billing and processing capabilities are smartly packaged into an easy-to-use and affordable online software, and Salestrakr's speed, power, and price are ideal for companies eager to better manage their business activities without the cost of legacy CRM applications," says Steve Youngblood, CEO and Co-Founder of Salestrackr. "Combined, the two products help small business owners grow their business."
The BillingOrchard integration is now available to all Salestrackr CRM customers.
About BillingOrchard
BillingOrchard is a B2B online invoicing system that demystifies the complexity surrounding account receivables. From automated recurring billing and feature-rich HTML invoices, to customized reports and a unique customer portal, BillingOrchard redefines billing and invoicing for the small to medium-size enterprise community. Get paid quicker and easier than ever before. Learn more and register for a free trial at http://www.billingorchard.com.
About Salestrakr
Salestrakr is a leading Customer Relationship Management (CRM) software provider offered on a Software-as-a-Service (SaaS) basis to Small and Medium-Size Businesses (SMBs).
Embodying its tagline Simply Powerful CRM, Salestrakr CRM is easy to use, easy to buy, and offers features typically found in more expensive CRM software. For a free 15-day trial of Salestrakr CRM, go to http://www.salestrakr.com.