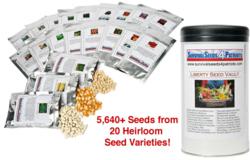 Nashville, TN (PRWEB) April 11, 2013
Last week, according to CBS News and other media outlets, President Obama signed a new law that makes it illegal for a federal judge to issue a court order halting the sale, use or distribution of genetically engineered seeds. The law also limits the ability of the U.S. Department of Agriculture to regulate the use of genetically engineered seeds.
MoreValuableThanGold agrees with many people and organizations that believe there has not been enough testing done with genetically engineered foods to warrant their widespread sale and usage. The company also vehemently disagrees with any law that protects the makers of genetically engineered seeds, even if it's proven that these seeds could be harmful.
MoreValuableThanGold believes that the best way to become independent of genetically engineered food is by growing one's own vegetables and fruits in a home garden and then using the seeds in the harvest to plant the next crop, thereby guaranteeing an ongoing food source.
The company offers the Liberty Seed Vault, which through March 2013 has sold more than 10,000 units since its launch in the summer of 2012. This represents a total of more than 500,000 non-GMO heirloom survival seeds.
Packaged in an air-tight metal storage container, the Liberty Seed Vault includes more than 5,400 open-pollinated, non-genetically modified, heirloom seeds from 20 varieties of vegetable heirlooms. Each order is accompanied by four informative guides and a 100 percent money-back guarantee.
A stockpile of non-hybrid vegetable seeds, plus the new seeds that will accompany the plants that they produce in their gardens, will enable people to feed themselves and their families forever. And, this garden food will be less expensive, more nutritious and better tasting than food purchased from grocery stores.
Among the vegetable seeds people can plant in order to have food year 'round are cabbage, lettuce, tomatoes, a wide variety of beans, carrots, corn, broccoli, Brussels sprouts, squash, melons, celery, cucumbers, eggplant, okra, onions, peas, pumpkins, radishes, spinach, zucchini, asparagus, beets, bell peppers and many more.
Plant growers should time their harvests based on the individual plant's method of seed dispersal; clean the seeds and spread them out to dry; store them in packets, glass jars or other containers; label the packets and containers by variety and date; and store them in a cool or cold, dark and dry place.
For those who have not yet established a garden, or who want a larger variety of seeds than have been produced by the plants they've grown so far, the Liberty Seed Vault is a way to get started.
Check out this Power4Patriots blog post to see if perhaps someone has been keeping an eye on your garden.