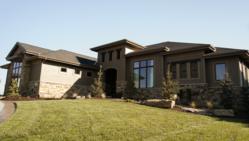 To have 3 houses in this year's exhibit is a great achievement for our team
Omaha, NE (PRWEB) April 16, 2013
Omaha home design firm Advanced House Plans is excited to have three custom home designs featured in the 2013 Street of Dreams. This will be their 9th show since 2004 and owners Tom Clark and Jason Diederich are excited to show off their latest work.
"We've designed dozens of homes specifically for this and other showcase events over the years," noted Clark. "To have three in this year's Street of Dreams is a great achievement for our team."
In 2012, two Advanced House Plans' designs were built for the show. One house, built by Absolute Custom Homes, featured a sports court and theater room - popular wishlist items for many of their clients.
"The house was really designed for entertaining," said Clark.
The other home, built by Renaissance Custom Homes, was a created to have a more intimate feel. Clark continued, "This was designed to be a very warm and comfortable house, and we were very proud of how it turned out."
The company has seen many design trends come and go. Today, clients are more interested in energy-efficiency and designs that specifically fit their lifestyle. "A garage is more than a garage these days. It's the main entry for the family, and often an entertainment space. Mud rooms are a key place for the organization and function of a home. Pantries are not just for storage and are used for planning and food-prep," explained Clark. "Rec rooms, golf simulators, and fun spaces for kids are also popular requests."
Advanced House Plans is one of Omaha's premiere custom home designers. Since 2002, the firm has overseen hundreds of custom homes designs, and their stock plans have been built in all 50 states. "Between our customs and stock plans, thousands of homes across the country have been built from our designs," added Diederich.
The annual showcase features the latest design trends from the area's top builders and is open to the public. It is September 14-29 in Deer Creek Highlands in Omaha.
Learn more about Advanced House Plans' Street of Dreams 2013 designs.