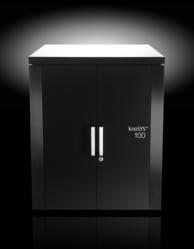 "We each will focus on our relative strengths, but the client will receive a turn-key system that is essentially plug-and-play," said Jonas Lee, Knome's SVP of Marketing.
(PRWEB) April 11, 2013
Knome Inc. and Silicon Mechanics, Inc. today announced their partnership to bring the knoSYS™100, an end-to-end human genome interpretation system, to market in Q2, 2013. As per the terms of the partnership, Knome will supply the core genomics software for the system, including its knoSOFT™ genome interpretation application and kGAP™ NGS informatics engine. Silicon Mechanics will construct and support the system's turn-key grid computing hardware platform, a Lustre®-based storage system, and server systems built around the Intel® Xeon® Processor E5-2600 product family.
Working closely with Intel and Knome, Silicon Mechanics developed the hardware platform for the knoSYS™100, which integrates seven separate servers all optimized to run Knome's interpretation software and informatics engine. "For this type of highly tuned product, Silicon Mechanics specializes in bridging the gap between commodity component manufacturers and sophisticated end users," said Tim Groen, Silicon Mechanics' senior enterprise account manager.
Cambridge, MA-based Knome provides clinics with systems and software for interpreting human whole genome, exomes, and targeted sequence data. "We wanted to offer our clients an in-house, locally-installed solution that would be under the full control of the end-user," said Michael McManus, senior vice president of Knome. "Working with Silicon Mechanics, we were able to configure a powerful high-performance computing system ideally matched to the intensive requirements of genome-level interpretation and informatics software."
Knome and Silicon Mechanics opted to base the knoSYS™100 hardware platform on the Intel Xeon Processor E5-2600 product family, due to its fast RAM throughput and the availability of hyperthreading, which greatly improves parallel processing across multiple compute cores within a processor. The high-performance computing cluster offers four compute nodes, each with two 8-core/16-thread, 2.4 GHz, 64-bit Intel® Xeon® E5-2665 Processors with 20MB cache, capable of 500 GFLOPS per node (2,000 teraFLOPS in total). The knoSYS™100 relies on a Lustre-based storage system for high I/O bandwidth. All the nodes are connected with InfiniBand networking.
As per the terms of the partnership, customers of the knoSYS™100 will purchase a complete system from Knome. "We each will focus on our relative strengths, but the client will receive a turn-key system that is essentially plug-and-play, removing the hassles associated with integrating multiple hardware and software components," said Jonas Lee, Knome's SVP of Marketing. For the full story, please visit Silicon Mechanic's website http://www.siliconmechanics.com/casestudies.
About Silicon Mechanics
Silicon Mechanics, Inc. is an industry-leading provider of rackmount server, storage, and high-performance computing solutions. Deploying the latest innovations in hardware and software technology, we work in collaboration with our customers to design and build the most efficient, cost-effective technology solution for their needs. Our guiding principle, "Expert included," is our promise that reflects our passion for complete customer satisfaction, from server and component selection to superior installation and ongoing technical support.
Silicon Mechanics has been recognized as one of the fastest growing companies in the Greater Seattle Technology Corridor.
About Knome
Knome Inc. is a leading provider of human genome interpretation systems and services. We help clients in two dozen countries identify the genetic basis of disease, tumor growth, and drug response. Designed to accelerate and industrialize the process of interpreting whole genomes, Knome's big data technologies are helping to pave the healthcare industry's transition to molecular-based, precision medicine.