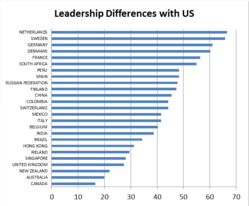 Portland, Maine USA and Dublin, Ireland (PRWEB) April 19, 2013
MRG's research finding revealed significant differences in leadership culture between the United States and several major European countries, including Germany, Sweden and the Netherlands. In contrast, the study found that leadership approaches in Canada and Australia are very similar to that in the United States.
"At the individual level, these finding can help leaders better prepare for international assignments," said David Ringwood, VP of EMEA Client Development. "At an organizational level, this information can be of value when leaders are striving for global alignment, building business in other countries, minimizing conflict, increasing understanding among team members, working cooperatively, and merging visions and values."
For more details on this study, please visit the MRG executive summary of the findings, found here: http://bit.ly/12nw8io
To view a recently held webinar on the topic led by MRG experts, click here: http://bit.ly/15mY8G8
About Management Research Group, Inc.
Founded in 1983, Management Research Group is an international assessment firm specializing in Strategic Leadership Development, Personal Development and Motivation, and Sales Force Effectiveness. Our unique semi-ipsative questionnaire design significantly reduces rater biases, producing more accurate, valid and actionable feedback. We have one of the largest databases in the world developed from over 30 years of research, a network of more than 1500 consultants active in over 100 countries, and our assessments are available in 15 languages and normed in 15 countries and eight global regions. For more information, visit us at http://www.mrg.com