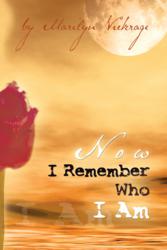 BALMORAL RIDGE, Australia (PRWEB) April 10, 2013
In her empowering memoir "Now I Remember Who I Am" (published by Balboa Press), author Marilyn Vickrage chronicles her exceptional life experiences while offering concrete messages for readers that encourage introspection and foster self growth.
Describing her dysfunctional upbringing, former abusive relationships, and past financial struggles, Vickrage exposes her misfortunes to illustrate the various inspirations that eventually followed. She offers practical advice that readers can use to recreate the positive changes in their own lives.
"My book is not about solving anything," she says. "It is a reference for people to relate to an experience they may be having now, or have had in the past, and which may enable them to cope and disarm distress as a consequence."
Vickrage works as a telephone crisis counselor, who empathizes with, consoles and motivates people who are in their darkest hour. Her goal in writing this inspirational memoir is to promote the importance of balancing spirituality with human experience.
"I'm offering people material to read that will be both physical and spiritual in nature, bringing hope and awakening to those in need of stepping up and out of human everyday drama, and motivating strength within themselves to cope with those distressing moments in their lives," Vickrage says.
Motivating and uplifting, Vickrage organizes the collection of personal stories thematically with an inspirational mantra highlighting each chapter. The stories are meant to inspire readers to cultivate a sense of self worth and ground themselves both physically and spiritually.
"The theme in my book is all about balancing physical earthly existence, whilst consciously acknowledging and living spiritually," she says.
About the Book
Now I Remember Who I Am
By Marilyn Vickrage
ISBN: 978-1-45250-586-2
Softcover: $13.99
E-book: $3.99
About the Author
Marilyn Vickrage has discovered through experience and study in metaphysics, philosophy, community leadership, counseling, and angel therapy that the key to connecting with her heart is expressing her creative powers for personal growth and self-healing. She lives in Queensland, Australia.
###